Strawberry Vale, Strawberry Hill
B15 - Grid reference SP051848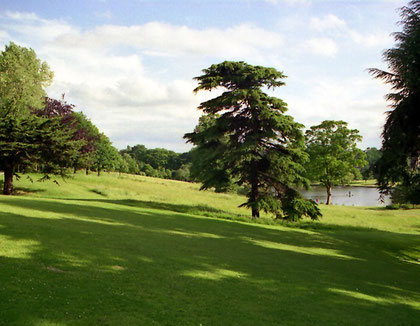 Strawberry Vale lay along the valley of Chad Brook in Edgbaston which flows eastwards from Harborne and then north-west to south-east through Chad Valley and the Vale where it was dammed to form a lake. The brook then flows southwards through Edgbaston golf course and Edgbaston Pool, to join the Bournbrook and the River Rea.
The modern Vale, an area of Birmingham University student accommodation, lies east of the Worcester & Birmingham Canal. It is likely even after the canal was built (here in about 1793), that most of Strawberry Vale lay west of it probably as far as Harborne Road.

The Vale lay close to the boundary with Harborne, a parish which was described in Kelly's Birmingham Directory of 1867 as having 'market gardening carried on to a considerable extent, particularly for strawberries.'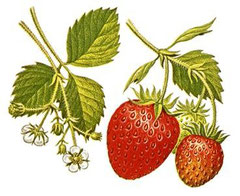 The woodland strawberry was widely cultivated in Europe until the 18th century, when it began to be replaced by the larger fruited garden strawberry, a cross of two American strawberries. Until this time the fruit was generally grown in the kitchen gardens of large country houses but specimens were stolen and cultivation of the fruit spread to cottage gardens for home consumption. With the booming town of Birmingham a profitable target for local farmers, it became increasingly worthwhile to grow the fruit within a day's travel of Birmingham market.

Strawberry growing was a labour-intensive activity providing unskilled work for young and old, though much of it was seasonal. The plants had to be bedded down with straw, runners removed and the rows weeded. Picking lasted from the end of May until July.

White's History, Gazetteer & Directory of Warwickshire of 1850 details the times of the Bristol Road (horse-drawn) omnibus which left Birmingham from the Bee Hive in Bull Street for the Bristol Road toll-gate at Priory Road. 'During the Strawberry Season, this Omnibus will make three journies to Strawberry Vale, viz., half-past Four, a quarter before Seven, and Eight.' Presumably it turned up Priory Road to the Vale. Seasonal labour on farms was often supplied by gypsies and other travellers. Here some of it was supplied by workers from the town.

But the land here, part of the Calthorpe Estate, was destined to be built on. Building leases had been granted as early as 1796 close to Edgbaston Hall and in the 1830s Edgbaston Park Road was laid out. Between it and the Birmingham & Worcester Canal and Church Road, an area now known as The Vale, a very large house of that name was built in extensive grounds. Remnants of its stone boundary wall still survive. Other large houses were built nearby including Wyddrington, and Maple Bank.
The 1841 Census lists only two properties in Strawberry Vale. One was a nursery, the other the home of the Danks family, Samuel, a solicitor, his wife and three young daughters waited on by four servants. Danks was a man of some means. A series of legal documents held by Birmingham Archives gives an interesting insight into residents on the developing Calthorpe Estate during the 19th century.

Samuel Danks's father, John was a canal carrier and wharfinger. He owned a warehouse at Diglis Wharf in Worcester and properties in West Bromwich, Wednesbury and Tipton. In 1832 he took a lease from Lord Calthorpe of land at the corner of Harborne Road and Chad Road on which he was to have houses built to be let at £40 a year. Houses in this area sell for up to £1 million today and prices must have been comparable then as this has always been a high-status district. Ten years later when the houses has been built he was letting them at over £100 a year. However, by 1848 John Danks was bankrupt. It is possible that he was adversely affected by the coming of the railways at this time. By this time his son had become a solicitor and a wealthy man in his own right. It seems that he was able buy back his father's properties from his creditors and then to lease them out himself.

Samuel is described in a property transaction of 1850 as Samuel Danks (gent.), a term used by people without birth or inherited property but with considerable wealth and aspirations of the gentry.

The nursery was run by Ann Willmore aged 65 and lay at the north-west end of the Edgbaston Guinea Gardens. The gardens were described in 1851:
MRS. WILMORE'S STRAWBERRY AND FLOWER GARDENS are among the pleasant and fashionable places of resort during the summer months. They occupy nearly the whole of a deep and rich valley, which is approached by a rapid descent from the road leading to the church (St Bartholomew's). The charge for admission is one shilling, the value of which may be had in strawberries, flowers, &c.
from Birmingham Illustrated 1851 – Cornish's Stranger's Guide through Birmingham

The nursery site is now occupied by the Edgbaston Archery and Lawn Tennis Society, the oldest tennis club in the world.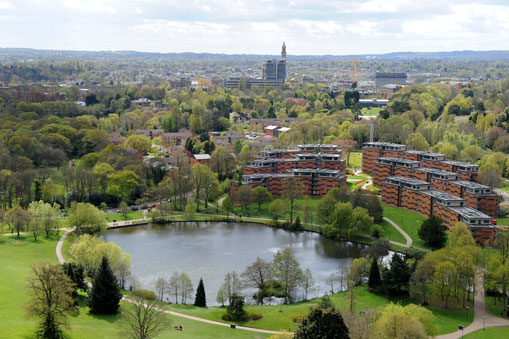 The house known as The Vale was bought by Birmingham University as staff accommodation after World War 2. However, the University was desperately short of student accommodation and negotiations took place with the Calthorpe Estate to buy the three properties above to create a parkland setting in which to set new halls of residence on a site subsequently known as The Vale. The first hall opened in 1964 with three others shortly afterwards. Additional halls were built in the late 20th century.
In recent years the accommodation has been extensively refurbished and new blocks opened in 2008. 
Image left from the University of Birmingham website is a view of The Vale from the Chamberlain building, a new student residential block topped out in 2015.
William Dargue 21.01.2009/ 11.12.2010