Stockfield
B25 - Grid reference SP123840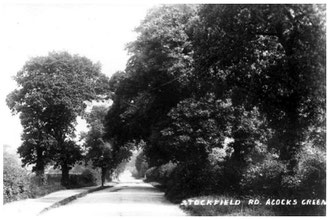 This name is remembered now only in the street name, Stockfield Road, which was known as Rushall Lane until the late 19th century. The name may have an medieval origin. This is often a difficult placename element to interpret: stoc may mean simply a place or a dwelling, but stocc means a 'stake' or a 'post' and implies land that is fenced in, perhaps for livestock.
Image from the Acocks Green History Society website, reuse permitted for non-commercial purposes.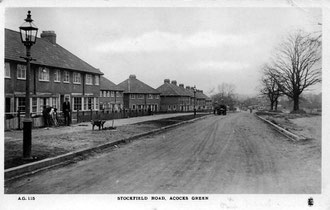 Stockfield or Stockstile Field was one of great open fields of Tenchley, also known as Heyne Field (ie.high field) and lay between what are now Arden Road, Stockfield Road, Mansfield Road and Wynford Road.
Stockfield Farm was a timber-framed house infilled with brick which was demolished for the widening of Stockfield Road in the 1930s. Council housing was built along the road in the 1920s, but this has since been replaced.
William Dargue 01.08.2010/ 05.08.2012