Spaghetti Junction
B6/ B23/ B24 - Grid reference SP092903
First record 1972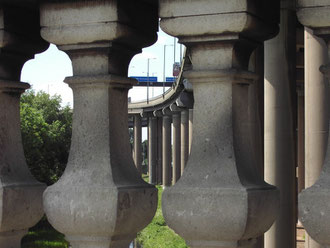 Well worth viewing on foot! 
Spaghetti Junction was a nickname given to Junction 6 of the M6/ A38M Aston Expressway even before its completion in 1972. It was at the time the most complicated multi-level junction in the world. This name, coined by a Birmingham Evening Mail journalist is in wide popular use although it does not appear on any map.

The junction enables travellers on the M6 to access the Aston Expressway A38(M) to the City Centre as well as giving access to local roads including Gravelly Hill and the Tyburn Road.
The M6 here crosses the Tame valley on stilts and the junction is virtually unnoticed from the M6 motorway. It is best appreciated on foot from Salford Bridge which carries the Lichfield Road over the River Tame.

Beneath the junction is Salford canal junction where the Birmingham & Fazeley, the Grand Union and the Tame Valley canals meet. The interchange was built over the Sutton Coldfield Branch railway line and the confluence of the River Tame and Aston Brook, the River Tame and River Rea.

See also Salford and Gravelly Hill.
William Dargue 01.05.2009