Stirchley/ Stirchley Street
B30 - Grid reference SP053810
Strutley Streete: first record 1650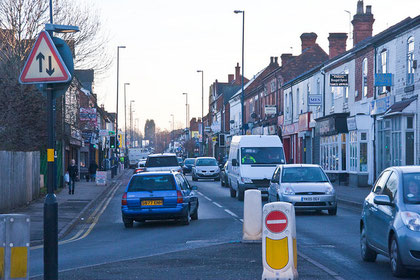 Also known as Stretley Streete, this placename has the same derivation as Streetly in the north of Birmingham, though it is something of mystery how Streetley was corrupted to Strutley and Sturchley (possibly a copyist's error) and then to Stirchley. The name comes from Old English strete leah meaning a 'clearing by the (Roman) road'.  The Anglo-Saxon word straet derived from the Latin via strata meaning 'a paved or laid road'

The road in question left the Fosse Way at Bourton-on-the-Water heading for the Roman fort and town of Alcester. It then came into Birmingham at Walkers Heath, followed Lifford Lane across the River Rea and on through Stirchley.
The route is known to follow that of the Pershore Road from Breedon Cross to Bournville Lane, but its route thereafter is not known. It certainly made for Metchley fort and must have still a topographical feature in Anglo-Saxon times, for the settlement to be so named.
On Hazelwell Fordrough was found a gold aureus of Emperor Vespasian (69-79). It had been minted in Tarragona in Spain during the last quarter of 70s AD. However, it is of a design never before found in this country and may have been lost by a collector in modern times.

No settlement appears at Stirchley on the 1834 Ordnance Survey map, but by 1888 there was some housing on the Pershore Road around Hazelwell Street. This hamlet was then known as Stirchley Street. There were by 1881 a post office, a police station, a board school, and railway station. However, Showell's Dictionary of Birmingham in 1888 maintained that,
notwithstanding these signs of modern civilisation, and the near proximity of Cadbury's Cocoa Manufactory, Stirchley Street is, as it has been for many a generation, a favourite country outing place for weary Brums having a chance hour to spend on change of scene.

By 1906 buildings, houses and shops had spread in a ribbon along the Pershore Road from Hazelwell Street as far as Fordhouse Lane. Many Victorian houses survive, including a pair on Hazelwell Street dated with a panel inscribed 'Stirchley Terrace 1838'. They are Grade II Listed buildings. The quarter of a mile along the Pershore Road from Hunts Road to Ash Tree Road is now one long shopping street.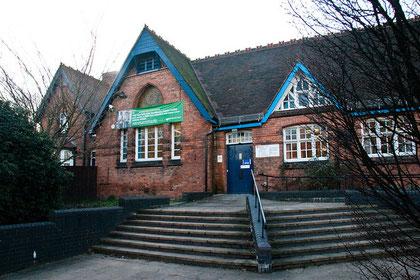 At Charlotte Road off the Pershore Road, Strutley Street (or Stirchley Street) Branch National School was opened in about 1860 by Kings Norton Church. At first a house was rented to cater for 100 children. A new building, which doubled as a church, opened in 1863 with accommodation for 132 pupils. However, government grants stopped in 1877 because the school was taught by an uncertificated teacher.
The school was replaced by Kings Norton School Board with Stirchley Street Board School on the Pershore Road in 1879 with accommodation for 215 children and a teacher's house attached.
The school was enlarged a number of times 1883, 1893 and 1896. A new infant block opened 1911 with accommodation for 400 children; the former infant department being used for the juniors. In 1930 the school was reorganised for senior boys, juniors and infants, the boys department later becoming Stirchley Boys County Modern School; this closed in 1959. The junior and infant school was renamed Stirchley County Primary School in 1954. 
In 1876 the Birmingham West Suburban Railway opened. The station at Bournville Lane was known variously as Stirchley Street, Stirchley Street & Bournville, Bournville & Stirchley Street, and simply as Bournville Station from 1904. It was a simple wooden building until it was rebuilt in brick in 1885 as at present.
From Selly Hall Croft the original line followed the Worcester & Birmingham Canal to join the Birmingham & Gloucester Railway at the present junction just before Pershore Road South at Queens Drive. This was later known as the Canal Branch. Closed in 1962, the track was lifted and the line built over. The present route was laid in 1892 and was known as the Stirchley Street & Bournville to Kings Norton Deviation Line, its name now thankfully shortened to the Lifford Curve.
Below: Stirchley/ Bournville Station in 1954, 1962 and 2011. Click to enlarge and for attribution.
Kings Norton Rural District was created in 1894; it was reconstituted with Northfield as an urban district in 1898 and renamed the Kings Norton and Northfield Urban District. The authority was disbanded when most of the district became part of Birmingham in 1911. The area closest to Birmingham was rapidly becoming built up and the council took very seriously its responsibilities to provide amenities for the expanding population.
During its short lifetime, the Urban District Council opened two cemeteries, two public baths, six parks, seven libraries, four schools and five fire stations.
Stirchley Free Library on Bournville Lane opened in 1907 with brothers George and Richard Cadbury donating the land. The building was designed by Birmingham architect John P Osborne who also designed the adjacent baths next door. The project was paid for jointly by the Carnegie Trust and the Cadbury brothers.

Bournville Lane Baths comprised a swimming pool and public washhouse and was also built on land given by the Cadburys in 1903. Opening in 1911 Stirchley Baths was a well-used facility until it closed in 1988 when parts of the building were became unsafe and the City Council could not find the funds to repair it. After standing unoccupied for 25 years, the building became derelict. However, the building was reopened as a community hub in 2016.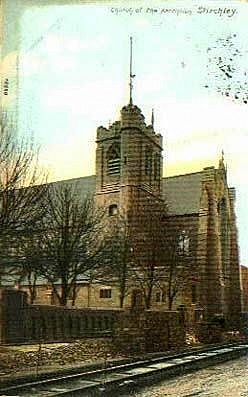 The Church of Ascension opened in 1901 on Hazelwell Street near its southern junction with the Pershore Road. Designed by Birmingham-based architect William Hale, it was as a chapel-of-ease to St Mary's Church, Moseley. It became a parish church in its own right in 1912. In 1927 a chapel-of-ease dedicated to St Hugh of Lincoln serving the Dads Lane and Pineapple estates was opened in Pineapple Grove.
On 29 October 1965, the Ascension was destroyed by fire and was later demolished. St Hugh's took its place as Stirchley parish church. A new church was built in a contemporary style in 1973 in Pineapple Grove as the church of the Ascension adjacent to St Hugh's mission hall which then became the church hall.
Next to the baths is Friends' Meeting House was built in 1913 to serve the local Quakers. It seated 250 people. The meeting originated in 1882 as the Bournville factory meeting. Ten years later they moved to the Stirchley Institute, a much bigger building built by the Cadbury brothers, which could hold twice as many people. The 1913 building has recently been converted in apartments.
Stirchley Institute was built in 1892 by the Cadbury brothers as a place of recreation and education for the rapidly increasing local population, many of whom were employed at the Cadbury factory up the road. The building is now the home of the Stirchley Community Church.
TASCOS 
Ten Acres and Stirchley Street Co-operative Society (TASCOS) was formed by a group meeting in Ten Acres School, later St Stephen's School (demolished late 1960s), now Darris Road off Warwards Lane). A house in Hazelwell Street was rented and opened in 1875 as their first shop. The venture was so successful that larger premises were soon needed and in 1878 the Stirchley Street Central Premises was opened near what is now the corner of Hazelwell Street and Umberslade Road. Adjoining shops and cottages were soon bought to extend the shop with drapery and shoe departments. By 1890 three branches had also been opened. By 1913 a new larger building, effectively a department store, was near the original site.  After the Second World War the Society had expanded to 50 branches.
Initially bread was made at a bake-house at the rear of the old Central Premises until larger premises were opened in 1905 and even larger premises were acquired in Mary Vale Road in 1929. A central butchery was established in 1913. By 1914 the dairy in Ribblesdale Road was distributing 5000 gallons of milk a week. A furniture department opened in 1915, a hairdresser's in 1926, a pharmacy in 1928 and the funeral parlour in 1932. The laundry moved from Mary Vale Road to Bewdley Road where it opened in 1939.
In 1971 TASCOS merged with the Birmingham Cooperative Society.
With declining sales the society decided to close the shop in 2020 as part of a national slimming down. Supermarket chain Morrisons have now taken over the building.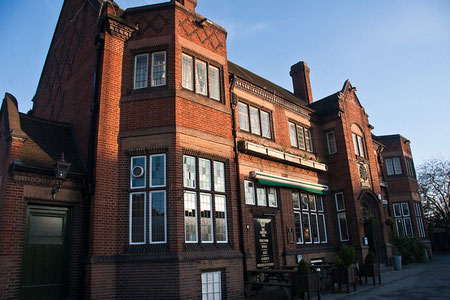 The British Oak is a Grade II Listed public house which opened in 1926. It was built in brick in a Tudor style by James & Lister Lea for Mitchells & Butlers to the rear of its predecessor. Many original features survive: the plasterwork ceiling, fireplaces, stained glass, wood panelling and a striking Oak Tree relief plaque at the main entrance.

During the early years of the 20th century industrial developments including Cadbury's and Guest, Keen & Nettlefolds GKN attracted housing development and much of the area was built up. Remaining open land was covered with council housing before World War 2.
The modern district of Stirchley lies around the Pershore Road between Selly Park Road and Fordhouse Lane.
William Dargue 07.03.09/ 11.01.2021