Stirchley/ Stirchley Street
B30 - Grid reference SP053810
Strutley Streete: first record 1650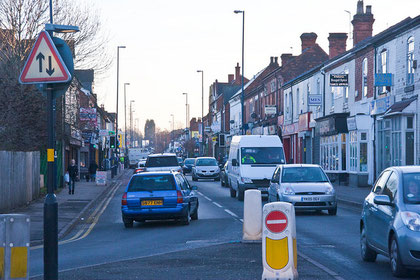 Also known as Stretley Streete, this placename has the same derivation as Streetly, though it is something of mystery how Streetley was corrupted to Strutley and Sturchley (possibly a copyist's error) and then to Stirchley. The name comes from Old English strete leah meaning a 'clearing by the (Roman) road'.  The Anglo-Saxon word straet derived from the Latin via strata meaning 'a paved or laid road'

The road in question left the Fosse Way at Bourton-on-the-Water heading for the Roman fort and town of Alcester. It then came into Birmingham at Walkers Heath, followed Lifford Lane across the River Rea and on through Stirchley.
The route is known to follow that of the Pershore Road from Breedon Cross to Bournville Lane, but its route thereafter is not known. It certainly made for Metchley fort and must have still a topographical feature in Anglo-Saxon times, for the settlement to be so named.
On Hazelwell Fordrough was found a gold aureus of Emperor Vespasian (69-79). It had been minted in Tarragona in Spain during the last quarter of 70s AD. However, it is of a design never before found in this country and may have been lost by a collector in modern times.

No settlement appears at Stirchley on the 1834 Ordnance Survey map, but by 1888 there was some housing on the Pershore Road around Hazelwell Street. This hamlet was then known as Stirchley Street. There were by 1881 a post office, a police station, a board school, and railway station. However, Showell's Dictionary of Birmingham in 1888 maintained that,
notwithstanding these signs of modern civilisation, and the near proximity of Cadbury's Cocoa Manufactory, Stirchley Street is, as it has been for many a generation, a favourite country outing place for weary Brums having a chance hour to spend on change of scene.

By 1906 buildings, houses and shops had spread in a ribbon along the Pershore Road from Hazelwell Street as far as Fordhouse Lane. Many Victorian houses survive, including a pair on Hazelwell Street dated with a panel inscribed 'Stirchley Terrace 1838'. They are Grade II Listed buildings.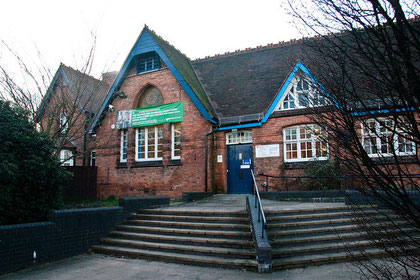 At Charlotte Road off the Pershore Road, Strutley Street (or Stirchley Street) Branch National School was opened in about 1860 by Kings Norton Church. At first a house was rented to cater for 100 children. A new building, which doubled as a church, opened in 1863 with accommodation for 132 pupils. However, government grants stopped in 1877 because the school was taught by an uncertificated teacher.
The school was replaced by Kings Norton School Board with Stirchley Street Board School on the Pershore Road in 1879 with accommodation for 215 children and a teacher's house attached.
The school was enlarged a number of times 1883, 1893 and 1896. A new infant block opened 1911 with accommodation for 400 children; the former infant department being used for the juniors. In 1930 the school was reorganised for senior boys, juniors and infants, the boys department later becoming Stirchley Boys County Modern School; this closed in 1959. The junior and infant school was renamed Stirchley County Primary School in 1954. 
In 1876 the Birmingham West Suburban Railway opened. The station at Bournville Lane was known variously as Stirchley Street, Stirchley Street & Bournville, Bournville & Stirchley Street, and simply as Bournville from 1904. It was a simple wooden building until it was rebuilt in brick in 1885 as at present.
From Selly Hall Croft the original route followed the Worcester & Birmingham Canal to join the Birmingham & Gloucester Railway at the present junction just before Pershore Road South at Queens Drive. This was later known as the Canal Branch. Closed in 1962, the track was lifted and the line built over. The present route was laid in 1892 and was known as the Stirchley Street & Bournville to Kings Norton Deviation Line, now thankfully shortened to the Lifford Curve.
Below: Stirchley/ Bournville Station in 1962 and 2011. Click to enlarge and for attribution.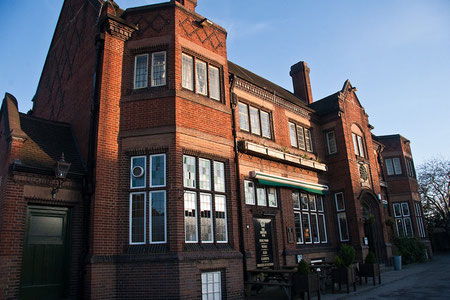 The British Oak is a Grade II Listed public house which opened in 1926. It was built in brick in a Tudor style by James & Lister Lea for Mitchells & Butlers to the rear of its predecessor. Many original features survive: the plasterwork ceiling, fireplaces, stained glass, wood panelling and a striking Oak Tree relief plaque at the main entrance.

During the early years of the 20th century industrial developments including Cadbury's and Guest, Keen & Nettlefolds GKN attracted housing development and much of the area was built up. Remaining open land was covered with council housing before World War 2.
The modern district of Stirchley lies around the Pershore Road between Selly Park Road and Fordhouse Lane.
William Dargue 07.03.09/ 06.08.2012