Soho/ The Soho, Soho Hill - Birmingham
B18/ B19/ B21 - Grid reference SP052891
Soho - Smethwick
B66 - Grid reference SP031890
Occasionally recorded as The Soho, the origin of this name is uncertain. It is thought to derive from an inn sign on Soho Hill which portrayed a hunstman from whose mouth came the word Soho! The call was used from the early 14th century to alert the hunt in pursuit of hares when an animal had been sighted, similar to the use of Tally Ho! in fox hunting. The London placename is first recorded in 1632.

It is also possible that the name was taken from London's Soho. A number of Birmingham names have a London pedigree. London's Soho Square in the late 18th century stood close to the countryside with handsome Georgian houses inhabited by nobility and gentry. Speakers of the House of Commons had houses in the square and a number of foreign embassies were here, including those of France, Russia, Spain and Sweden.

A further possibility has been mooted that the name derives from a map reference to a building called South House, abbreviated as 'So. Ho'. Soho is now considered part of Handsworth and the name is used primarily with reference to the long and linear shopping centre along Soho Road.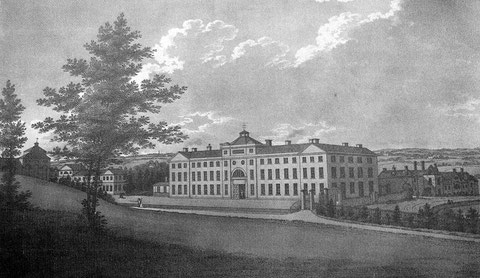 Soho Manufactory
For a hundred years after 1761 the name of Soho had world-wide significance. Erasmus Darwin wrote:
Soho is the name of a hill in the county of Staffordshire, about two miles from Birmingham; which, a very few years ago, was a barren heath, on the bleak summit of which stood a naked hut, the habitation of a warrener.
The transformation of this place is a recent monument to the effects of Trade on population. A beautiful garden, with wood, lawn, and water, now covers one side of this hill; five spacious squares of building, erected on the other side, supply workshops, or houses, for about five hundred people.

Darwin was referring to Matthew Boulton's home, Soho House and to the Soho Manufactory. One of the earliest large industrial buildings, the factory was built on the site of an earlier watermill on a scale previously unknown. Standing on Factory Road it was built in plain neo-classical style with a central tower above an arched doorway and topped by a cupola. Here over a thousand workers were employed making high quality 'toys': buttons, boxes, buckles, coffee pots, lamps, spurs, trinkets, silverware, plate and jewellery for which Birmingham was to become world-famous.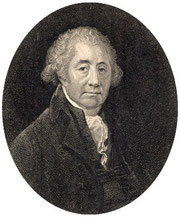 The Manufactory was innovative in bringing so large a workforce under one roof making such a wide variety of goods of good quality and with planned division of labour. Soho was near the Wednesbury turnpike road and soon the Birmingham Canal giving better access to coal and iron supplies. However, the site suffered from a continuing problem of insufficient water power. And it was the solution to this problem that led Boulton's phenomenal success.

Boulton tried a Newcomen steam engine to pump used water back up to the millpool for reuse. However, the engine operated by alternately heating up and cooling down the cylinder and cost more to run than was gained in increased production.
In 1768 James Watt visited Boulton to discuss his own steam engine which had a condenser separate to the cylinder. One such was made and installed at Soho in 1773. Its success led to Boulton and Watt producing their own highly efficient steam engines for sale the following year.

One of Boulton & Watt's first six engines to be made, and the oldest now in existence dating from 1777, was rescued from the pumping station on the Birmingham Canal at Smethwick and is still run from time to time at the Museum of Science and Industry at Millennium Point. Watt's rotative engine enabled machinery to be turned directly by steam power and from 1818 Soho was powered by steam not water.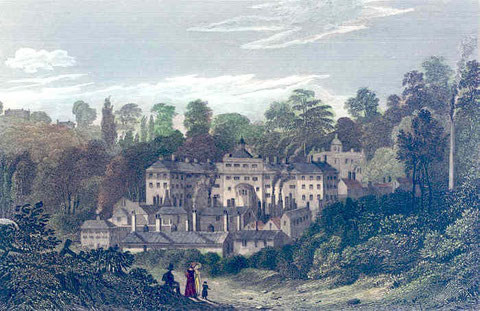 Boulton was also innovative in aggressively marketing his products. From 1782 he sold rotary steam engines which could operate machinery directly, a great boon in industrial areas water was scarce but coal plentiful.
From 1797 Boulton went into minting coins. Some forty-five million high quality George III 'cartwheel' pennies and twopences were produced in two years as well as other coins and medals exported all over the world. The Mint buildings stood on the east side of South Road.
In 1802 Boulton's other partner, William Murdock demonstrated the first public coal-gas lamps in the world set up at the manufactory to celebrate the Peace of Amiens. Gas lighting subsequently enabled factories to be operated 24 hours a day and the company then moved into the manufacture of gas lights and fittings.
Soho Manufactory was demolished in 1863 and nothing visible now remains.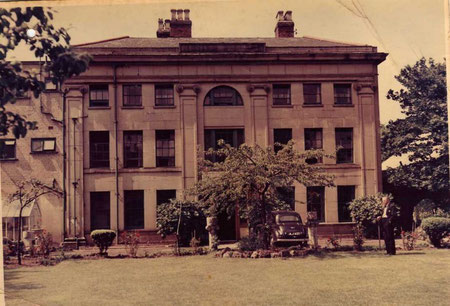 Well worth a visit - Soho House.  
Matthew Boulton's house in Soho Avenue may now be visited as a City museum. Now Grade II* Listed, this elegant and innovative mansion was built in Georgian neo-classical style after 1761 and set in extensive landscaped grounds overlooking the manufactory site.
The photograph shows Soho House when it was the Soho Hall Hotel c1950. Grateful thanks for permission to use this photograph to Judy Last née Tuck on the Birmingham History Webring Forum.
Judy Last kindly supplied the following information:
Photo probably taken early 1950s of my Dad (the proprietor) Alex Tuck in the garden. The hotel was bought by Albert and Emma Jane Tuck in 1929, and was later taken over by my parents, Alex and Winnie Tuck, who ran the hotel until 1956. 26 years in family ownership.

The house was originally a cottage which stood close to Boulton's mill. Under the supervision of the Wyatt brothers, the cottage was expanded into an elegant country mansion. Boulton moved into the house in 1766 when the Manufactory was completed. It was to be his home until his death in 1809.

The Lunar Society
Soho House was a showcase for Boulton's many innovations. Here he installed the first central heating ducts in this country since Roman times, piped hot water to the bath, pioneered flush toilets, gaslighting and alloy window frames. The house became a meeting place of pioneers. The Lunar Society was a loose group of liberal thinkers, scientists and technologists who dined together on the Monday nearest the full moon. This was to enable them to go home late in the days before street lighting.

Lunatics
Boulton clearly enjoyed the role played by his house and described it as l'hotel de l'amitié sur Handsworth Heath - 'the mansion of friendship on Handsworth Heath.' Frequent visitors to Soho House included Erasmus Darwin of Lichfield, a medical doctor with wide interest in mechanics and the grandfather of Charles Darwin; Dr William Small, Boulton's doctor and a mathematics tutor at William & Mary College Williamsburg in Virginia where Thomas Jefferson was his pupil; clockmaker John Whitehurst; Josiah Wedgwood of pottery fame and an early promoter of canal transport; novelist Richard Lovell Edgeworth, inventor of horse carriages and of the click-wheel land-measuring device; Thomas Day, a prominent anti-slavery campaigner; Captain James Keir of West Bromwich, glass and chemical manufacturer; James Watt of steam engine fame, inventor of the world's first office document copying machine and of the sculpture copying machine; Dr William Withering, discoverer of digitalis; Joseph Priestley, a nonconformist minister and scientist who experimented with electricity, isolated oxygen and invented soda water; gunmaker Samuel Galton Junior who discovered that the seven colours of the spectrum are made up of only red, yellow and blue; Dr Jonathan Stokes, who investigated the medicinal value of plants; Rev Dr Robert Johnson, chemist. This seminal group often referred to themselves as lunatics.(See also Queslett.)

After the Soho estate was broken up in the c1860 for building development, Soho House was sold the following year to become the vicarage for St Michael's Church which had been built nearby in 1855. The hall was known as Soho House Hotel from 1929 until 1956, after which it was used as a hostel for GEC apprentices, and later as accommodation for police officers.

Soho Foundry was a development built in 1796 by Boulton & Watt to manufacture steam engines as the original site could not cope with further expansion. Hence the fact that the area round Foundry Lane in Smethwick is also called Soho.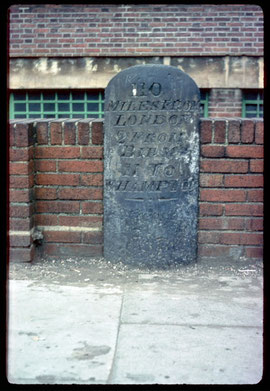 The Wednesbury Turnpike was set up in 1727 along the present Soho Road/ Holyhead Road. Largely a new road via existing villages, it left Birmingham from Bull Street and met its first tollgate at the bottom of Constitution Hill. Travelling down Hockley Hill to cross Hockley Brook and up Soho Hill another tollgate at Villa Road gave access to the present Holyhead Road. This was a vital busy route bringing coal from the Black Country to the iron furnaces of Birmingham. However, it traffic must have decreased dramatically with the opening of the Birmingham Canal to Wednesbury in 1769. In 1781 William Hutton noted of the road:
To Wolverhampton, thirteen miles, much improved since the coal-teams left it.

The London-Holyhead Mail Road was set up after the 1801 Act of Union when further improvements were made to enable Irish MPs easier access to the port of Holyhead. Thomas Telford raised the road level across the valley of Hockley Brook and reduced the height of Soho Hill. A milestone survived inscribed '111 miles from London. 3 miles from Birmingham. 10 miles from Wolverhampton'; it now stands in the grounds of Holyhead School at the corner of Milestone Lane. The road was disturnpiked in 1870.
Image left: Milestone of 1824 on Soho Hill. Photograph by Phyllis Nicklin 1968. 
William Dargue 08.03.2009/ 17.08.2012