Stockland Green
Stockland Green B23 - Grid reference SP096917
First record 1741
Stockland Green stands on an interfluvial ridge west of Erdington village and near the boundary of the manor. Although not found documented until 1741, the name is probably much older. As with Stockfield, this is not an easy placename to translate. Stoc may mean simply a 'place' or 'dwelling', stocc means a 'stake' or a 'post' and implies land that is fenced in, perhaps for livestock. So Stockland may mean fenced in land, with a later addition of green probably meaning common grazing land.
By the end of the 19th century the tiny hamlet at the junction of Slade Road and Marsh Lane was being approached by housing development from both Birmingham and Erdington.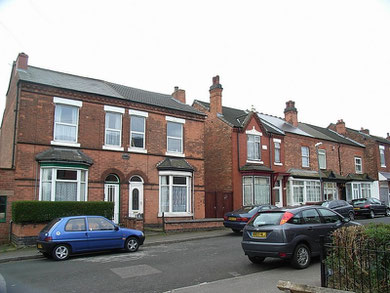 A small terraced development was built around the northern end of Slade Road. After the amalgamation of Erdington with Birmingham in 1911 further terraces were built along and around Slade Road which subsequently developed into a busy shopping street.

Between the two World Wars extensive municipal housing development took place north of Marsh Hill/ Reservoir Road.
With the setting up of the Outer Circle bus route the focus shifted back to the junction of Marsh Hill and Marsh Lane where a garage, cinema and large public house were built, an arrangement seen on many Outer Circle junctions with the arterial roads from the City Centre.
Click to enlarge the images in the Stockland Green Gallery below.
William Dargue 07.03.09/ 31.07.2010