Salford, Salford Bridge
B24 - Grid reference SP095901
Pont de [bridge of] Scraford: first record 1290, Schafford Brugge 1230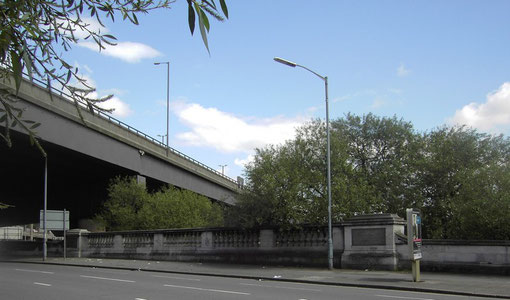 Salford is not a district but of the name of a location which now lies under Spaghetti Junction. There are a number of Salfords in England, some of which derive from 'salt ford'.
This would be a feasible interpretation of this name, as the ford across the Tame here lies on a route north from Droitwich, a centre of the salt trade from Roman times and probably earlier.
However, the earliest record of this Salford is written as 'Scraford' and derives the Old English scraef ford, 'cave ford' referring to a cliff at the foot of Copeley Hill.
North of Spaghetti Junction caves in the sandstone were visible until the 1970s when they were destroyed by the M6 motorway construction. The caves here were recorded as the Dwerffehole, 'Dwarf hole' in 1461. See Dwarfholes.

The ford here was an important crossing of the River Tame by the Lichfield Road, a route which linked Bristol and Worcester to Lichfield and the north-east of England from medieval times. It was known as 'one of the four great roads of England'. The crossing at the foot of Gravelly Hill must have been a firm one. A wooden bridge is recorded here from 1290, which was rebuilt with four stone arches in 1536 as a humped packhorse bridge like that which still crosses the River Tame at Water Orton. John Leland wrote of his visit to Birmingham in 1538:

A mile beyond Bremischam I passyd over Sharford-bridge of 4. arches of stone. Tame river goythe under this bridge, and the castle of Dudley is on this ryver a 6. miles above Sharford-bridge [not true]. There be faire medows about Sharford-bridge.
Itinerary in England and Wales in or about the Years 1535-1543

The parish of Aston was responsible for the upkeep of the bridge until the Civil War when it it was destroyed by the parliamentary forces. Subsequently its maintenance was the responsibility of the county of Warwickshire. During the late 17th century in order to lessen wear and tear on the bridge, the ford was still maintained in good condition and the bridge chained across when the river was passable. By 1738 silt had piled up against the bridge piers and split the river around an island. In 1906 the bridge was rebuilt to allow the tram route to continue to Erdington. The river was canalised when Spaghetti Junction was built.
See also Spaghetti Junction.