Saltley, Lower Saltley, Over Saltley, Upper Saltley, Saltley Gate
B8 - Grid reference SP102879
Sautlega: first record c1170
For a thousand years Saltley was the home of a scattered rural community who farmed the western slope of a ridge which runs down to the River Rea. Here were the open strip fields of this sub-manor of Aston. At the top of the hill was the hamlet of Over Saltley around the junction of Alum Rock Road and Bowyer Road. Excavations of the remains of an 18th-century dairy also showed tentative evidence that it may have stood on one side of a village green. At the bottom of the hill was also a small village focus at Lower Saltley east of the Rea ford.

The open fields were enclosed late here. High Field enclosed in 1817 was the last in Birmingham. Corn grown in these fields was ground at the manorial watermill near Crawford Street. This was first recorded in 1526 when it belonged to Thomas Holte of Duddeston. By 1690, in common with many Birmingham mills, it had converted to blade grinding and by 1760 was rolling steel.
Saltley mill
A windmill at Ralph Street near Alum Rock Road, which is shown on Beighton's map of 1725 and a map of 1755, seems to have gone by 1760. This postmill may have been built to grind corn when the watermill turned to metal working. The windmill may then have been abandoned when nearby Duddeston Mill turned back to corn grinding. Saltley watermill was drawing wire in 1850 though by that time not using water power but steam. Saltley Mill was the predecessor of a great swathe of industry which would soon spread along the whole river valley.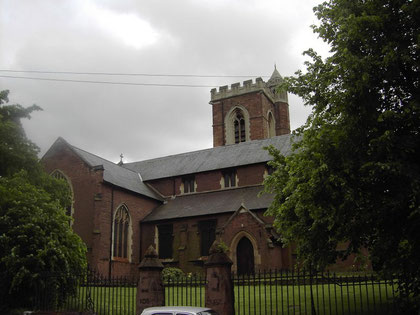 St Saviour's Church
Although little housing development had taken place by the middle of the 19th century, St Saviour's Church, paid for by C B Adderley and Joseph Wright, was consecrated in 1850.
This prominent and distinctive brick church with stone dressing was designed by R C Hussey in perpendicular style and is a surprisingly large building with seating for eight hundred people. It is now a Grade II Listed building. The churchyard railings are a rare survival of the wartime drive to collect iron to make into armaments.
In 1904 a set of eight tubular bells was installed, almost certainly cast by Harrington, Latham & Co of Coventry and donated by Lord Norton. They are sounded from a chiming apparatus on the first floor. They were overhauled in 1976. The church also has a 2½ cwt bell cast by Barwell of Birmingham in 1911 which was brought in 1979 from the redundant St Basil's in Deritend. Long closed for new burials, the graveyard has been given the status of a nature conservation area in this heavily built-up district.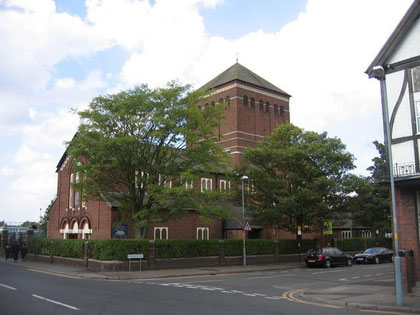 Our Lady of the Rosary and St Therese of Lisieux
This Roman Catholic Church replaced a temporary church of 1921 at the junction of Parkfield Road and Bridge Road. The new church opened in 1933 and was consecrated the following year. This large red-brick building in Italian Romanesque style is cruciform in plan and has a large central tower containing a carillon of 23 bells cast in 1932 by Gillett & Johnston. The church was badly damaged by German bombs during the World War 2 in 1940 and 1941, but was repaired before the war had ended. 
Left: © Copyright David Stowell and licensed for reuse under Creative Commons Licence Attribution-Share Alike 2.0 Generic. Geograph OS reference SP1087. 
Just at the time that St Saviour's opened, the character of the area began to change. The catalyst was the building of the Birmingham & Derby Junction Railway, which was laid in 1842 along the valleys of the Rea and Tame, and the opening of Saltley Station twelve years later. Joseph Wright, was a stagecoach owner and coach-builder who set up his Saltley Carriage Works in 1844 off Saltley High Street on the present site of Saltley Trading Estate. He shrewdly capitalised on the railway boom and by 1860 over a thousand workers were employed at his Metropolitan Carriage & Wagon Company (later Metro-Cammell) producing rolling stock for home and for export. The last trains rolled off the assembly line here in 2004.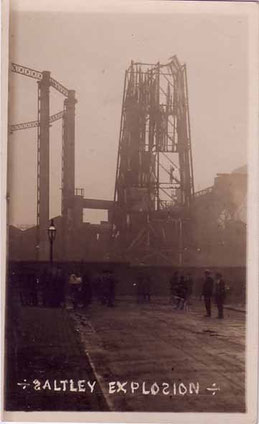 About 1880 the site of Saltley Mill became part of a gasworks producing gas from coal. This was initially a council enterprise which grew and expanded eventually to cover hundreds of acres along the River Rea between Saltley and Nechells. At their height these was the largest gasworks in Europe whose powerful sights and smells dominated the district until the 1970s.
The Saltley Gas works explosion of 10 October 1904 was allegedly caused by a worker lighting a cigarette. It is said that the explosion broke windows within a half mile radius and that the ground was felt to shake in Coleshill 8 miles away.
The railway industry needed a very wide range of equipment and by 1870 there were five large factories in Saltley employing over three thousand people to produce everything for railways home and abroad from rolling stock and all its internal furnishings, railway lines and signalling equipment, and everything needed on the station, signs, lamps and waiting-room fires. In Arden Road the Britannia Works also produced railway rolling stock on a site north of the Birmingham-London railway, and in Common Lane the Midland Works was built close to the Derby line.
The railway here was of prime importance. Branches were built to bring the coal directly into the various gasworks as well as to bring in raw materials for other industries and to export manufactured products notably for the ralway industry. With the decline in heavy industry much of this land fell into deriliction from the 1970s to be cleared in the 1990s for light industry. Significant sidings are still in use west of Common Lane.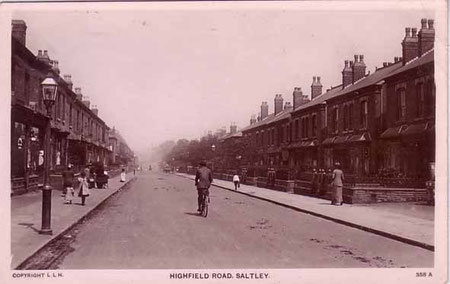 The development of the railway and gas industries led to the construction of hundreds of good-quality working-class homes and by 1888 housing and industry was continuous from Birmingham to Duddeston and Nechells to Lower Saltley. In 1891 Saltley voters opted to leave Aston manor to amalgamate with Birmingham. By the turn of the century the slopes of Saltley were covered in long terraces of straight streets at what was then the eastern limit of Birmingham. However, farmland still stretched beyond Highfield Road.

Alum Rock Road grew into a linear shopping street from Highfield Road down to Saltley Gate and still thrives as a local shopping centre. Much Victorian housing also survives in the area much of it being renovated during the 1980s.

By 1858 Joseph Wright had set up a school on Saltley High Street for the children of his carriage workers. It probably continued until the opening on Alum Rock Road of St Saviour's Church School. As the population increased, Highfield Road Board School was opened by the Aston School Board in 1878 and Arden Road Board School twenty years renamed The Adderley Primary School in 1954. Both schools are much altered but retain their original buildings.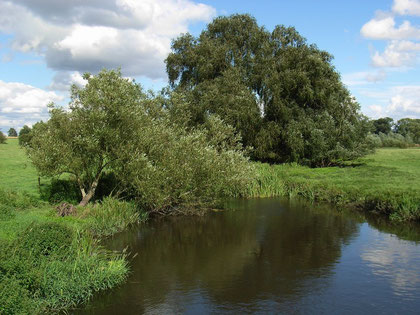 Anglo-Saxon origin
The name of the district is Anglo-Saxon in origin and derives from sealuht leah meaning 'willow clearing'. Both crack willow and white willow are prevalent on wetland near rivers. The valley of the River Rea here is wide and shallow and provided ideal growing conditions for this species of tree.
The original settlement may have been in the Adderley Road area close to the former course of the River Rea where a medieval site is known (See Adderley). The river followed a circuitous course until it was straightened and culverted in the late 19th century.

Descent of the manor
Saltley was one of the manors of Aston parish whose overlordship descended from William Fitzansculf of Dudley Castle. Before 1194 overlord Gervase Paynel granted Saltley to Henry de Rokeby whose descendant, Anabel Gobaut née de Rokeby leased the manor in 1333 and later sold it to Walter de Clodeshale and his son Richard. They were granted the right to have a private chapel in the manor house.
In 1428 the latter's grandson, also named Richard died, leaving an only daughter Elizabeth who married Robert Arden of Park Hall, Castle Bromwich. Saltley then descended with that manor until 1643 when it passed to one of Robert Arden's sisters, Anne, wife of Sir Charles Adderley. Charles Bowyer Adderley was lord of the manor in 1850; he was created Lord Norton in 1878. The manorial rights of Saltley had lapsed by the end of the 19th century, though the Adderley heirs remained major landowners in the area well into the 20th century.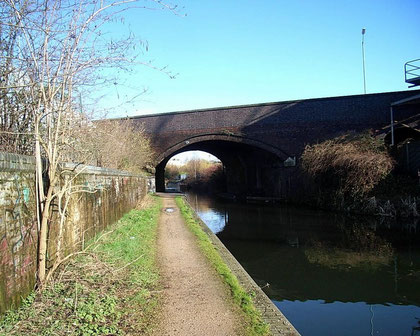 From the early Middle Ages Saltley Ford was an important crossing of the Rea for representatives attending the Hemlingford Hundred moot near Kingsbury, later held at Coleshill. Here they crossed the river before travelling on via Alum Rock Road and Coleshill Road. A bridge was built in 1738.
In 1760 the Castle Bromwich (Coleshill) Turnpike was set up to meet the Chester-Stonebridge Turnpike (for Coventry and London) at Castle Bromwich. As a result a new road was laid across Washwood Heath which must have made for better travel, especially across Wash Brook (alongside Ward End Park) via a paved ford and later a hump-backed bridge. However, despite the provision of a bridge over the Rea, the wide shallow valley was prone to flooding and William Hutton still complained about that crossing twenty years later:
At Saltley, in the way to Coleshill, for want of a causeway, with an arch or two, every flood annoys the passenger.
 Saltley Viaduct was built in 1895 to replace the level crossing over the Derby line; travellers under this Victorian work appreciate far better its structure than those passing over it. A tollgate stood at the junction of the High Street with Washwood Heath Road with the keeper's cottage alongside. The tollgate was known as Saltley or Halfpenny Gate. The road was disturnpiked in 1877 and Saltley Gate taken down.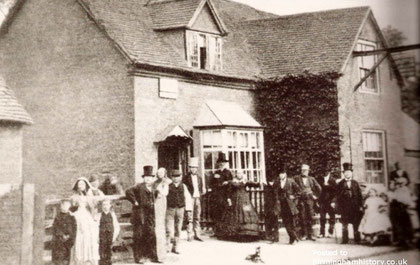 The Old Gate Inn probably predated the turnpike by a hundred years being a resting place for travellers from Birmingham after they had waded through the ford. It was replaced in 1879 by a new Gate Inn, which stood on the site of the slip-road from Saltley High Street to Washwood Heath Road. Although this was demolished c1980, the junction is still known as Saltley Gate thanks now in large part to the sculpture placed in the middle of the roundabout.

On the turnpike at Washwood Heath stood a gibbet until the beginning of the 19th century. Its exact location is unknown, but was probably on Washwood Heath Road at Aston Church Road, that being the highest point. Here the guilty were hanged in public and their bodies left in chains.
A public hanging of eight men here in 1802 is reckoned to have attracted one hundred thousand spectators, a huge number by any standards, but especially so when the population of the town numbered just sixty thousand.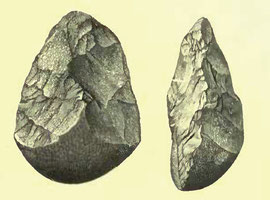 Old Stone Age
Although there was no significant Roman presence in Birmingham, evidence of habitation here during the Roman period was provided by finds of Roman pottery by Mr Sandon of Saltley College (St Peter's). His discoveries took place between 1887 and 1897 in front of the college. And in 1919 a Roman coin hoard was found in Jackson Road. This comprised a large number of bronze coins which were quickly sold and dispersed.

Mr Sandon's greatest discovery was the Saltley handaxe which came to light in 1890 and which is now on display in Birmingham Museum. Discovered in a gravel pit in front of Saltley College, this was the first Old Stone Age implement to be discovered in Warwickshire and is a good example of a palaeolithic tool. It was fashioned from quartzite by a Neanderthal or a homo erectus a quarter of a million years ago and is similar to one found at the important cave site at Creswell Crags in Derbyshire.
However, the axe is not made from material found locally and may not have been dropped at this site. The tool was found in a clay pit at the bottom of an overlying layer of glacial gravel. The action of glaciers after the Old Stone Age means that it may have come from somewhere north of Birmingham.

For Saltley College, see Adderley. See also The Rock.
Click to enlarge the images in the Saltley Gallery below.
William Dargue 11.03.2009/ 22.03.2009