Sutton Woods/ Walmley and Beyond the Wood/s
B76 - Grid reference SP148953
Sutton Woods: first record in 1207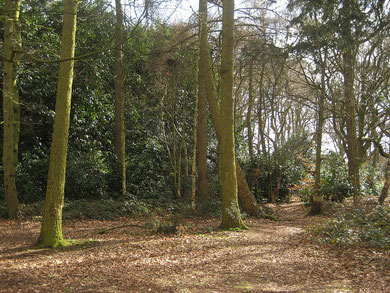 For many centuries the area east of Springfield Road was known from a Sutton perspective as 'Walmley and Beyond the Woods', a term which suggests the survival of a large amount of woodland in the Langley area. A document of 1207 refers to a property called Ramshurst (hurst = 'wooded hill') on Bulls Lane as being located in Sutton Woods; there is still a working farm here of the same name.

By the 13th century the national population was three times greater than that of Domesday and previously marginal farmland became economically viable. Although vestiges of woodland still do remain, most of this woodland would have disappeared during this time of expansion.
In the 1530s one of Bishop Vesey's charitable acts was to set aside the income from a hay meadow for the benefit of 15 poor widows. Known as Lord's Meadow or Widows' Acre, the field measured some 5 hectares and was situated Beyond the Wood and Warmley.
There are still examples surviving in Walmley of ancient woodland, defined within the Nature Conservation Strategy as having been in continuous use since as woodland since at least 1600: Jones Wood, Home Wood and Coopers Wood. Jones Wood, measuring 2.4 hectares, is mature deciduous woodland made up largely of oak and birch with beech and sycamore. Old boundary banks and ditches (medieval?) are still in evidence here, as are old pollards and coppice stools.

See also Sutton Coldfield and Sutton Chase.