William Dargue  A History of BIRMINGHAM Places & Placenames from A to Y
Pineapple
B14 - Grid reference SP062813
First record 1678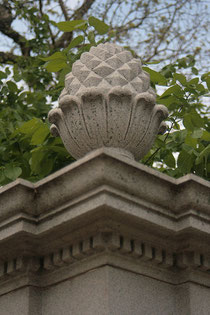 In late Middle English pineapple was the word that was used for what we now call a 'pinecone'. From the 15th century the word was used for a stylised representation of a pinecone in architecture and decoration. In this context apple derives from the Latin pomum which meant at that time any kind of fruit. What we now call a pineapple originates in tropical South America and was so-called from the mid-17th century when the fruit was first brought to England because of its resemblance to a pinecone.
Gate posts topped with a stone carved in the pinecone design were fashionable at that time, possibly because of the introduction of the exotic new fruit. Presumably there were such at Pineapple Farm near the junction of Allenscroft Road and Millbrook Road.
Pineapple is now a municipal housing estate named after the farm which it replaced in the early 1920s. It lies north of Brandwood Park Road and east of Allens Croft Road. During sewer excavations for the estate in 1933 an unfinished axe hammer of Nuneaton stone was found at Vicarage Farm. The axe was made during the New Stone Age and may be up to 7000 years old.
To serve the new estate Pineapple Council School, now Allens Croft School, on Allenscroft Road opened in 1923 with accommodation for 400 pupils. Growing numbers meant that additional accommodation had to be provided for a class at Hazelwood parish hall in 1930; the school was enlarged in 1952 to fourteen classrooms. The school moved into new buildings in 2007 and is now known as Allens Croft School.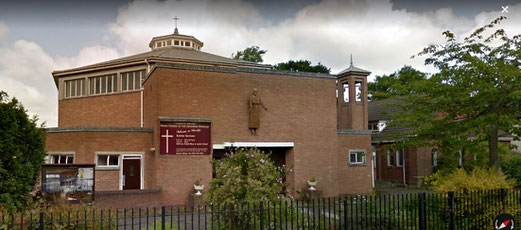 Take a look. The Church of the Ascension was a large brick building in gothic style which stood on Hazelwell Street from 1901. With the building of the Pineapple estate, a mission chapel dedicated to St Hughe was set up in a wooden building in Pineapple Grove. After a disastrous fire in 1965, the Church of the Ascension had to be demolished. It was rebuilt in a contemporary style in 1973 adjacent to St Hughe's mission hall which then became the church hall.
Over the west door is a fibreglass statue, slightly larger-then-life, of Christ Ascending sculpted by John Bridgeman, head of sculpture at Birmingham School of Art. The statue is set away from the wall and depicts Christ gazing downwards with arms outstretched and feet turned down to give the impression of a figure slowly rising. 
See also Hazelwell.
William Dargue 04.04.2009/ 21.12.2020