William Dargue  A History of BIRMINGHAM Places & Placenames from A to Y
Pype Hayes
B24 - Grid reference SP131921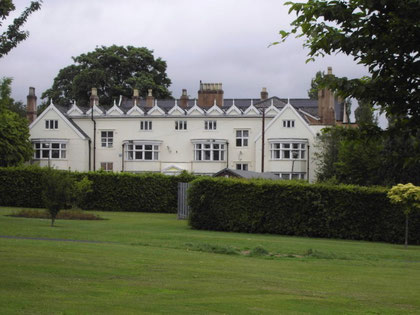 Pype Hayes is situated some two miles north-east of Pype. A sub-manor of Erdington, it was possibly so-named because it was at one time part of the manor of Pype, which itself may have taken its name from the 14th century holders of the estate. However, it too may have had a pipa, 'a water channel', one artificially made for a purpose not now known.
The second element of the name, Hayes derives from (ge)haeg or 'hay' . This was a fenced or hedged piece of land enclosed usually for agriculture, but here it may refer to an enclosure for hunting game. The term is used in woodland areas of deer parks in Anglo-Saxon times. If so, there is likely to have been a significant ditch and hedged bank around the enclosure. The name is perhaps best rendered as 'Pype enclosure'.

Before 1218 the manor of Erdington was divided between three coheirs, one of whom was Roger de Erdington. His portion had passed by marriage to the Massy family of Cheshire by the 16th century. In 1604 Hugh Massy married Bridget, the daughter of William Arden of Park Hall near Castle Bromwich. Their son, John subsequently sold the manor, the further descent of which is unknown. The manor was to remain in the family, however. John's mother was the great-aunt of the father-in-law of Hervey Bagot, the builder of Pype Hayes Hall. Bagot enclosed many acres of waste, at that time part of Sutton Chase, and  after 1630 built the hall and laid out the surrounding park. He lived here for 15 years before being killled in 1645 during the English Civil War as a colonel for the Royalist cause. 
The house descended in the Bagot family for over 250 years, in 1850 being occupied by Revd Egerton Arden Bagot. The 1891 Census lists William and Lucy Bagot living here with a dozen servants.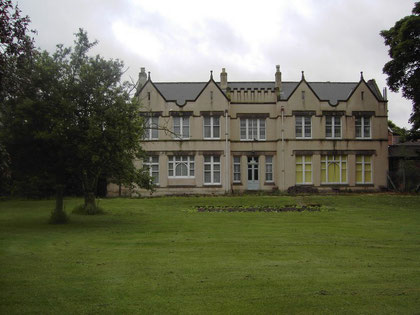 Take a look at Pype Hayes Hall.

This Grade II Listed building in Pype Hayes Park was built about 1630 by Sir Harvey Bagot. The hall was bought  in 1906 by the wealthy industrialist, James Rollason who owned Bromford rolling mills. He is recorded as living there two years later in Kelly's Directory. Some ten years later it was bought by Birmingham City Council when its park was made into a public park and the house converted into a convalescent home. Used until recently as City Council offices and much altered, it is still essentially Stuart in appearance. There are plans to convert the building into a hotel.

The original house, a central block with gabled cross wings, was timber-framed, but was altered and stuccoed in the late 18th century. Presumably the timber frame still stands behind the stucco facade.
The front of the house has thirteen small gables. The pedimented porch with tuscan columns dates from the mid-18th century, and there are 19th- and 20th-century additions. Inside early 17th-century panelling survives and an 18th-century staircase.
The Birmingham historian, William Hutton visited the hall sometime before 1783 and was unimpressed by the modernisation:
Though the hall is antique, its front is covered in the modern barbarous stile, by a clump of venerable trees; which would become any situation but that in which they stand. It is now inhabited by a gentleman of Birmingham, who has experienced the smiles of commerce.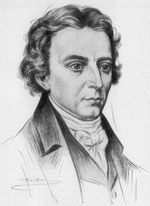 The Romantic poet Robert Southey was a friend of Rev Walter Bagot of Pype Hayes Hall and is known to have worked here on his biography of the poet, William Cowper. (Southey was shocked by what he saw of the industrialisation of Birmingham. For an example of his writing about the town go to the foot of this page.) 
The evidence of the medieval name of Pype Hayes shows that this was a settlement site very much older than the hall. Evidence of ridge and furrow, medieval open strip fields is still visible in front of the hall. It can also be seen on Pype Hayes Municipal Golf Course on the north side of Plantsbrook, west of Ashford Drive. The open field system must have been related to the manor of Berwood of which Pype Hayes was part. (See the Glossary - open fields.)

In the Middle Ages the Earl of Warwick, as lord of Sutton manor, provided a stone cottage for two retainers to escort travellers across Sutton Chase which was then a desolate and dangerous area renowned for robbers. The Chester Road has long been an important highway through the area. Bow Bearers Lodge survived until it was demolished in 1828; Bowcroft Grove is a modern street name commemorating a field called Bow Bearers Croft.

Sand and gravel were quarried here commercially. Little Pitts Farm on the Chester Road was named after holes left by such excavations; one such hollow remains in Pype Hayes Park.

A surprise find in 1955 was a Civil War Coin Hoard unearthed by Mr Buckley when he was digging up his potatoes in an allotment to the rear of Welwyndale Road. Some thirty silver coins were identified including a Philip & Mary shilling, two Elizabeth I shillings, thirteen sixpences dated between 1561 and 1596, three sixpences of James I and a Charles I half crown of poor silver, either a forgery or struck at one of the King's emergency mints. These are now in Birmingham Museum.

The land west of Pype Hayes Park was Berwood Common, which lay between the Chester Road, Kingsbury Road, Holly Lane and Grange Road. It was developed as Pype Hayes council estate just after World War 1, the park being laid out for the public at the same time and opened in 1920. The hall and land were bought by Birmingham Corporation in 1919 with compensation for the loss of Castle Bromwich Aerodrome, now Castle Vale, compulsorily purchased by the War Office.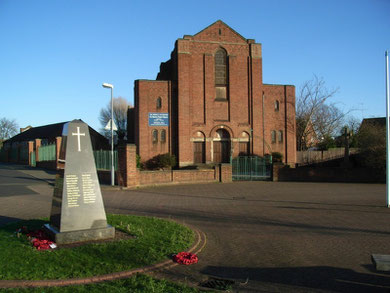 Take a look at St Mary's Church.
On Tyburn Road, just before its junction with the Chester Road is a large romanesque-style church designed by Edward Reynolds, the Deputy Director of the Birmingham School of Architecture and a Grade II Listed building. Andy Foster describes the church in Pevsner's Architectural Guide: Birmingham 2005 as Reynolds' 'masterpiece and arguably the finest [building] of its time in Birmingham'. It was consecrated in 1930.

The church was paid for by sale of the site of St Mary's in Whittall Street in the Gun Quarter which had been closed in 1925. This church is built in red brick with round tile arches and sandstone dressings. St Mary's, a large Grade II Listed building has a seven-bay nave with passage aisles and a clerestory; the roof is covered with Roman tiles. The east end is cruciform with a chancel and chapels in the transepts. The church hall is attached to the church's north side by a cloister.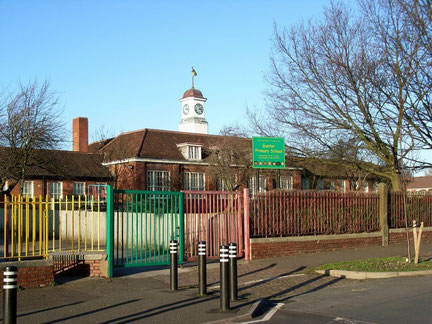 Paget Road Council School opened in 1928 with accommodation for 824 seniors and juniors.
Gunter Road Council School was opened two years later for 432 junior and infant children; three huts were added in 1932 and St Mary's church hall was also used 1952-1954 as numbers continued to increase.
Click here for a History of Gunter School
by deputy head, Malcolm Sanders.
Houses on the Pype Hayes estate were constructed using innovative building methods which unfortunately failed to last. By the end of the 20th century many were in a poor state of repair and c2000 the whole estate was demolished and rebuilt in a partnership between a housing association and the City Council.
While the street pattern is essentially unchanged, few buildings remain with the exception of some shops and churches. The Norton pub has gone, replaced by a supermarket.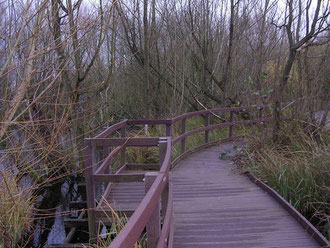 Take a look. Opposite Pype Hayes Park off Eachelhurst Road is Plantsbrook Nature Park was the site of the 18th-century Plants Forge. The pools used for Birmingham's water supply after 1866; filter beds were built after 1876. Plantsbrook Reservoirs were superseded by the Elan Valley scheme after 1907, abandoned and the area used for recreation by local people.
In 1978 the pools were drained ready for landfill and subsequent building development. However, local campaigning encouraged the City to buy it as a community nature reserve to be managed by the Urban Wildlife Group. In 1985 the Group's president, David Bellamy formally opened the 10ha park. A number of habitats are preserved here including woodland, wetland and wildflower meadows. Boardwalks provide excellent access across usually inaccessible water and marsh.

Plants Brook is the name of the stream that feeds the reservoirs. Towards Sutton Park where the stream has its source, it is usually known as East Brook or Ebrook.
See also Plants Brook.
William Dargue 02.10.2008/ 26.08.2015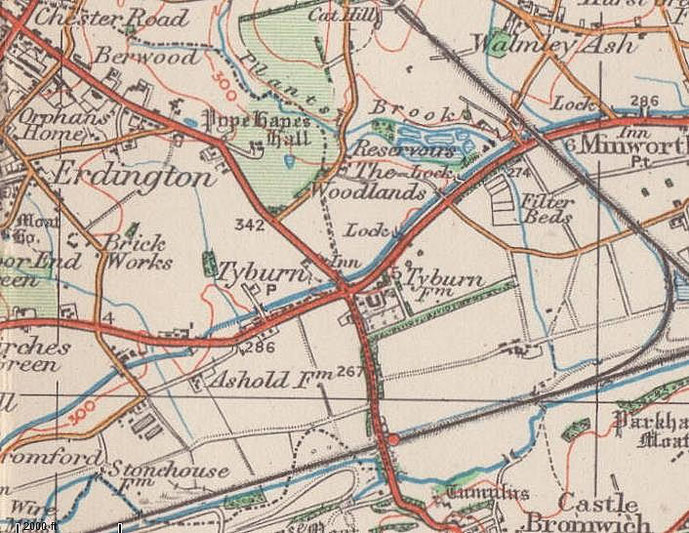 Don Manuel Alvarez Espriella 1807 Letters from England
by Robert Southey
These letters describing a visit to England in 1802 had been allegedly translated from Spanish. However, they had neither been written by Espriella - there was no such person - nor had they been translated from Spanish. Their author was the Romantic English poet Robert Southey.
Letters from England - 36

Birmingham - Miserable State of the Artificers - Bad Guns manufactured for the Guinea Trade - Anecdotes of Systematic Roguery - Coiners - Forgers - Riots in 1791 - More Excuse of Dishonesty here than in any other Place.
Thursday, July 7. - Birmingham. (1802)
You will look perhaps with some eagerness for information concerning this famous city, which Burke, the great orator of the English, calls the grand toy-shop of Europe. Do not blame me if I disappoint you. I have seen much, and more than foreigners are usually admitted to see; but it has been too much to remember, or indeed to comprehend satisfactorily. I am still giddy, dizzied with the hammering of presses, the clatter of engines, and the whirling of wheels; my head aches with the multiplicity of infernal noises, and my eyes with the light of infernal fires,- I may add, my heart also, at the sight of so many human beings employed in infernal occupations, and looking as if they were never destined for any thing better. Our earth was designed to be a seminary for young angels, but the devil has certainly fixed upon this spot for his own nursery-garden and hot-house.

You must forgive me, if I do not attempt to describe processes which I saw too cursorily, and with too little pleasure to understand. A sick stomach will not digest the food that may be forced down it, and the intellect is as little able to assimilate that for which it has no aptitude.

When we look at gold, we do not think of the poor slaves who dug it from the caverns of the earth; but I shall never think of the wealth of England, without remembering that I have been in the mines. Not that the labourers repine at their lot; it is not the least evil of the system, that they are perfectly well satisfied to be poisoned soul and body. Foresight is not a human instinct: the more unwholesome the employment, the higher of course are the wages paid to the workman; and incredible as it may seem, a trifling addition to their weekly pay makes these short-sighted wretches contend for work, which they certainly know will in a few years produce disease and death, or cripple them for the remainder of their existence.

I cannot pretend to say, what is the consumption here of the two-legged beasts of labour; commerce sends in no returns of its killed and wounded. Neither can I say that the people look sickly, having seen no other complexion in the place than what is composed of oil and dust smoke-dried. Every man whom I meet stinks of train-oil and emery. Some I have seen with red eyes and green hair; the eyes effected by the fires to which they are exposed, and the hair turned green by the brass works. You would not, however, discover any other resemblance to a triton in them for water is an element with the use of which, except to supply steam engines, they seem to be unacquainted.

The noise of Birmingham is beyond description; the hammers seem never to be at rest. The filth is sickening: filthy as some of our own towns may be, their dirt is inoffensive; it lies in idle heaps, which annoy none but those who walk within the little reach of their effluvia. But here it is active and moving, a living principle of mischief, which fills the whole atmosphere and penetrates every where, spotting and staining every thing, and getting into the pores and nostrils. I feel as if my throat wanted sweeping like an English chimney. Think not, however, that I am insensible to the wonders of the place:- in no other age or country was there ever so astonishing a display of human ingenuity: but watch-chains, necklaces, and bracelets, buttons, buckles, and snuff-boxes, are dearly purchased at the expense of health and morality; and if it be considered how large a proportion of that ingenuity be employed in making what is hurtful as well as what is useless, it must be confessed that human reason has more cause at present for humiliation than for triumph at Birmingham.

A regular branch of trade here is the manufacture of guns for the African market. They are made for about a dollar and a half; the barrel is filled with water, and if the water does not come through, it is thought proof sufficient: of course they burst when fired, and mangle the wretched negro who has purchased them upon the credit of English faith, and received them most probably as the price of human flesh! No secret is made of this abominable trade; yet the government never interferes, and the persons concerned in it are not marked and shunned as infamous.

In some parts of Italy, the criminal who can prove himself to be the best workman in any business is pardoned in favorem artis, unless his crime has been coining; a useful sort of benefit of clergy. If ingenuity were admitted as an excuse for guilt in this country, Birmingham rogues might defy the gallows. Even as it is, they set justice at defiance, and carry on the most illegal practices almost with impunity. Some spoons which had been stolen were traced immediately to the receiver´s house: `I know what you are come for,´ said he to the persons who entered the room in search of them, `you are come for the spoons,´ and he tossed over the crucible into the fire, because they were not entirely melted. The officers of justice had received intelligence of a gang of coiners; the building to which they were directed stood within a court-yard, and when they reached it they found that the only door was on the upper storey, and could not be reached without a ladder: a ladder was procured: it was then some time before the door could be forced, and they heard the people within mocking them all this while. When at last they had effected their entrance, the coiners pointed to a furnace in which all the dies and whatever else could incriminate them, had been consumed during this delay. The coins of every country with which England carries on any intercourse, whether in Europe, Asia, or America, are counterfeited here and exported. An inexhaustible supply of halfpence was made for home consumption, till the new coinage put a stop to this manufactory: it was the common practice of the dealers in this article, to fry a pan-full every night after supper for the next day´s delivery, thus darkening them, to make them look as if they had been in circulation.

Assignats were forged here during the late war; but this is less to be imputed to the Birmingham speculators, than to those wise politicians who devised so many wise means of ruining France. The forgery of their own bank notes is carried on with systematic precautions which will surprise you. Information of a set of forgers had been obtained, and the officers entered the house: they found no person on any of the lower floors; but when they reach the garret, one man was at work upon the plates in the farthest room, who could see them as soon as they had ascended the stairs. Immediately he opened a trap door, and descended to the floor below; before they could reach the spot to follow him, he had opened a second, and the descent was impracticable for them on account of its depth: there they stood and beheld him drop floor to floor till he reached the cellar, and effected his escape by a subterranean passage.

You may well imagine what such people as these would be in times of popular commotion. It was exemplified in 1791. Their fury by good luck was in favour of the government; they set fire to the houses of all the more opulent dissenters whom they suspected of disaffection, and searched every where for the heresiarch Priestley, carrying a spit about on which they intended to roast him alive. Happily for himself and for the national character, he had taken alarm and withdrawn in time.

It ought, however, to be remembered that there is more excuse to be made for dishonesty in Birmingham, than could be pleaded any where else. In no other place are there so many ingenious mechanics, in no other place is trade so precarious. War ruins half the manufacturers of Birmingham by shutting their markets. During the late war nearly three thousand houses were left untenanted here. Even in time of peace the change of fashion throws hundreds out of employ. Want comes upon them suddenly; they cannot dig; and though they might not be ashamed to beg, begging will avail nothing where there are already so many mendicants. It is not to be expected that they will patiently be starved, if by any ingenuity of their own they can save themselves from starving. When one of Shakespeare´s characters is tempted to perform an unlawful action, he exclaims, `My poverty, but not my will, consents.´ It is but just, as well as merciful, to believe that the same extenuation might truly be pleaded by half the criminals who come under the rod of the law.

Being a foreigner, I could not see Messrs. Bolton and Watt´s great works at Soho, which are the boast of Birmingham, and indeed of England. As these extraordinary men have by the invention of the steam-engine produced so great a change upon the commercial system, and thereby upon society in this country, I could have wished to have seen their own establishment; but it was in vain, and I did not choose by making the trial to expose myself to the mortification of a refusal.
Letters from England - 37.

Mail Coaches - Mr. Palmer ill-used - Vicinity of Birmingham - Colleries on fire - Stafford - Stone - Newcastle-under-Line - Punishments for Scolding - Cheshire - Bridgewater Arms at Manchester.
Friday, July 9. (1802)
The mail coach which communicates between Bristol and Manchester, leaves Birmingham at a reasonable hour in the morning. These coaches travel at a rate little short of two leagues in the hour, including all stoppages: they carry four inside passengers, two outside: the rate of fare is considerably higher than in other stages; but a preference is given to these, because they go faster, no unnecessary delays are permitted, and the traveller who goes in them can calculate his times accurately. Each coach has its guard, armed with a blunderbuss, who has charge of the mails; he has a seat affixed behind the coach, from whence he overlooks it, and gives notice with a horn to clear the road when any thing is in the way, to bring out the horses when he approaches the end of a stage, and to be ready with the letter-bags when he enters a post-town. Guards and coachmen all wear the royal livery, and the royal arms are upon the coaches.

It is now about twenty years since this plan has been adopted. Before that time the mails were carried by a single courier, who was as long again upon the road, and at the mercy of every footpad. They are now perfectly safe; they go without expense, in consequence of the profits of the coaches: and the effect of the rapid communication has been to double that branch of the revenue which is derived from the post-office. Yet the projector has little reason to be satisfied with the justice of the nation. He stipulated for a centage upon the clear increase of revenue above a certain sum. The whole management of the post-office was intrusted to him; but there were two lords above him with higher powers and higher salaries. These places he wished to abolish as useless, not recollecting that Government desires to have as many places in its disposal as possible, and instead of wanting to curtail the number of old ones, would have been obliged to him to have invented new. In the struggle he was displaced himself: so far all was fair, he only lost the stake for which he was playing; but advantage was taken of this to annul the terms of the contract between him and the nation, and assign him 4000l. a-year, in lieu of his per centage, which already amounted to a much larger sum, and would yearly have increased with the increasing revenue. Of course he remonstrated against this breach of public faith; the cause was brought before parliament, and it was absurdly argued against him, that smaller pensions than this had been deemed a sufficient reward for their victorious admirals,- as if rewards and contracts were of the same nature. The minister was against him, and Parliament therefore annulled its own contract in its own favour.

Before this plan of Mr. Palmer´s was established, the ordinary pace of travelling in England differed little from what it still is in other countries: an able-bodied man might walk the usual day´s journey. Its effects have not been confined to the revenue. Other stages immediately adopted the guard, and became secure from robbers; they were stimulated to rival speed, and in consequence improvements in coach-building of some kind or other are every year discovered and adopted; even waggons travel faster now than post coaches did before this revolution. Hence travelling consumes at present so much less time, and is attended by so much less fatigue, that instead of being regarded as an evil, it is one of the pleasures of the English; and people, as in our case at this very time, set out upon a journey of two hundred leagues to amuse themselves.

The morning was fair, we mounted the roof, and I looked back upon Birmingham not without satisfaction at thinking I should never enter it again. A heavy cloud of smoke hung over the city, above which in many places black columns were sent up with prodigious force from the steam-engines. We rejoiced that we were travelling into a better atmosphere, but the contagion spread far and wide. Every where around us, instead of the village church whose steeple usually adorns so beautifully the English landscape; the tower of some manufactory was to be seen in the distance, vomiting up flames and smoke, and blasting every thing around with its metallic vapours. The vicinity was as thickly peopled as that of London. Instead of cottages we saw streets with brick hovels, blackened with the smoke of coal fires which burn by day and night in these dismal regions. Such swarms of children I never beheld in any other place, nor such wretched ones,- in rags, and their skins encrusted with soot and filth. The face of the country as we advanced was more hideous than can be described, uncultivated, black and smoking. I asked the coachman from whence the smoke proceeded, and he told me the whole earth beneath us was on fire; some coal-mines had taken fire many years ago and still continued to burn. `If you were to travel this road by night, sir,´ said he, `you would see the whole country a-fire, and might fancy you were going to hell!´ - A part of the road which is thus undermined gave way lately under one of the stages: it did not sink deep enough to kill the passengers by the fall, but one of them had his thigh broken.

This deplorable country continued for some leagues, till we had passed Wolverhampton, the last manufacturing town in this direction. Between this place and Penkridge it improved, we were once more in an agricultural land, and beheld clean skins and healthy countenances.