William Dargue  A History of BIRMINGHAM Places & Placenames from A to Y
Pheasey
B43 - Grid reference SP065954
Veysies farme house: first record 1648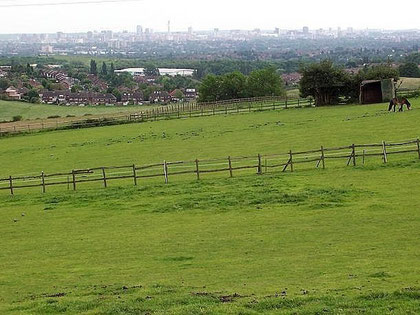 Although physically part of the Birmingham conurbation and separated by Green Belt from Walsall, Pheasey lies just over the City boundary in Walsall MBC. The district became part of the Aldridge Rural District Council in 1934, part of Aldridge Urban DC in the early 1960s, part of Brownhills UDC  and part of Walsall under local government reorganisation in 1974.
The Pheasey housing development began just before the Second World War on the land of Pheasey Farm. This is shown on the 1834 Ordnance Survey map at the corner of Collingwood Drive and Beacon Road on the site of Roxburgh Grove. The estate is laid out in a geometric pattern typical of its time and lies between Beacon Road, Queslett Road and Doe Bank Lane.

The name of the Pheasey estate derives from the family name, Vesey. Veysies farme house is recorded in 1648, but its known ownership goes back to 1559 when one John Reddell sold the farm, then known as Barr Lea, to Simon Vesey, a descendant of Sutton's famous son and benefactor, Bishop Vesey.
By the end of the century the house and land were in the hands of priest and lawyer, Rev John Scott of Great Barr. Noted for its sheep, the holding remained with the Scott family until 1921.

The Scotts were first recorded in this area in 1332 and owned Great Barr Hall from 1618 until 1909. At time of the auction of that hall in 1909, the farm, now known as Pheasey Farm was sold to George Smith, who had been the tenant here for some years. In 1935 he sold the land for housing development.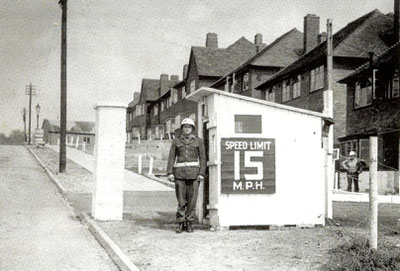 Building began in 1937, but at the outbreak of World War 2 less than half of the 4000 plus houses planned had been built. Part of the unfinished estate was requisitioned by the War Office in 1942 for use by American troops who stayed until the end of the war in 1945.
Pheasey Farm buildings were not finally demolished until the 1960s, the barn having been used as a community centre for many years after the war.

Nearby Park Farm, the home farm of the Great Barr Estate was also sold for housing soon after the war, development continuing until 1981.
See also Queslett. 
William Dargue 04.04.2009/ 21.12.2020