William Dargue  A History of BIRMINGHAM Places & Placenames from A to Y
Great Barr
formerly in Staffordshire - one of the Domesday manors of Birmingham
B42/ B43/ B44 - Grid reference SP044947
Baerr: first record 957 AD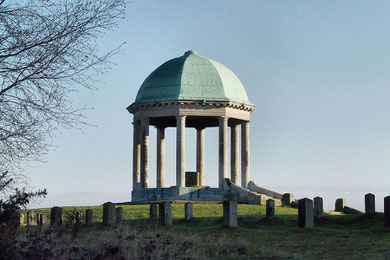 Well worth a visit, Barr Beacon
 
The majority of English placenames are of Anglo-Saxon origin. However, here is a rare example in this area which shows evidence of contact between the incoming Anglian settlers and the indigenous Celts. Barr is not an Anglo-Saxon name but a rare Ancient British survival in this area which means 'hill top' and clearly refers to Barr Beacon. Recorded as Baerr in a charter of 957 AD and as Barra in the Domesday Book, this highest point in the West Midlands County is recorded from Anglo-Saxon times as a beacon hill and was certainly a Celtic site before that.
Colonel J H Wilkinson of Ashfurlong House in Sutton Coldfield bought Barr Beacon as a perpetual public memorial for the soldiers of the Staffordshire and Warwickshire regiments who had been killed in World War 1. The dome on Barr Beacon was erected in Wilkinson's memory in 1933.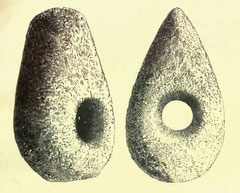 Right: Perforated neolithic handaxe found off Beacon Road in the late 19th century.
Stone Age tools are generally chance finds and almost certainly chance losses. However, the fact that a neolithic perforated handaxe was found here near the prominent Barr Beacon certainly indicates a Stone Age presence here and maybe more.
This green-stone tool was artificially perforated, an exercise of some great skill and is of a type rarely found. The hole is designed to take a wooden handle.

There are two entries for Barr included in the Domesday survey, one referring to Great Barr, the other to Little Barr, the latter becoming part of Perry Barr in the 14th century. The Latin tags magna and parva, 'great' and 'little' were added by c1200, both referring to manors rather than to settlements.
Until the urban development of the 20th century, the area between Beacon Road and the Chester Road was known as Great Barr Common and stretched as far north as Foley Road down to the area north of Kings Road which was known as Perry Barr Common.

The area was part of Sutton's colefield which had been cleared of much of its original tree cover by charcoal burners as early as the 13th century, leaving only unproductive heath and marshland. Much of the common land was enclosed in 1795 as a result of pressure from wealthy local landowners, including Sir Joseph Scott of Great Barr Hall. The land was enclosed and divided into nine farms which were subsequently let.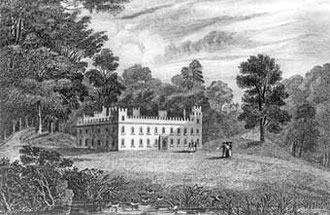 Great Barr Hall
The Scott family was first recorded in this area in 1332. Richard Scott bought the Netherhouse in 1618 which he subsequently greatly extended. Sir Joseph Scott rebuilt and further extended the house as Great Barr Hall in a romantic gothick style in 1777 set within an extensive landscaped deer park. He inherited the manor in 1791 and was created a baronet in 1806. However, as a result of his extravagant living he was forced to lease the hall. His tenant was the Birmingham industrialist, Samuel Galton, during whose time here the hall was used as one of the meeting places for the Lunar Society (See Queslett.)
After 1800 the hall was extended to the south-west and a clock tower was added after 1830. In 1863, what looked like a chapel was designed by Sir Gilbert Scott for use as a billiards room.

The estate was described in 1800 in Cooke's Warwickshire:
The hospitable mansion of Sir Joseph Scott Bart. is surrounded by a park of considerable extent wherein there is the greatest variety of undulating hills and dales, woods and water, together with such extensive views as can only be found in this part of the kingdom. To this park there are three entrances, and at every avenue the worthy proprietor has erected an elegant lodge, from which there are capacious carriageways to the mansion... On entering the park a circular coach drive leads to the holly wood, through which you proceed by a serpentine road nearly half a mile when a beautiful sheet of water presents itself to view, along whose banks you pass near a mile before you arrive at the mansion.

The situation of the building is low in front of the water, but being screened by rising ground and lofty trees, it must be very warm in winter. On the left of the house, a walk leads you to the flower garden which is laid out with great taste, containing flowers and small shrubs of the choicest and rarest kinds, together with a fountain in the centre. From here there are delightful views and among others over the adjacent country, Birmingham is distinctly seen. At a distance of about two miles further towards Walsall, there is another lodge which is the entrance from Walsall, and leads you by a spacious serpentine road through Marrion Wood which is composed of various shrubs and evergreens and conducts you to a most elegant chapel . . .

There is another lodge at a place called the Queslet . . . where a spacious road conducts you for a considerable distance by a plantation of oaks and so through the park wherein there are fixed numerous seats which command delightful and comprehensive prospects.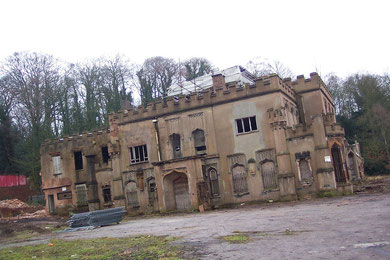 After the death of Lady Bateman-Scott in 1909 the house and estate were bought by the West Bromwich Guardians of the Poor and used as Great Barr Park Idiot Colony. The hall continued as a mental health institution with various subsequent names until c1986/7. Some twenty additional buildings of St Margaret's Hospital were built between 1910 and 1930 caring until the 1990s for patients with mental health problems.
The hospital buildings have now been demolished and housing has been built on the site, though part of the site with its lakes and woods remains a Staffordshire Nature Conservation Trust Reserve. The hall is currently in a dilapidated and dangerous state and was damaged by fire in 2007. There are currently plans to build housing on its site.
(Thanks for additional information to Cazz a nurse at the hospital 1976-1984.)
Great Barr is now a rather loosely defined district around M6 Junction 7 and is divided between Birmingham, Sandwell and Walsall local authorities covering the postcode districts of B42, B43 and B44. It also includes the area within Birmingham around the north of Aldridge Road which was developed with both private and municipal housing between the two world wars. This also became known as Great Barr although it actually lay outside the former manor. Most of the old manor of Great Barr lies outside the Birmingham boundary within Walsall Metropolitan District.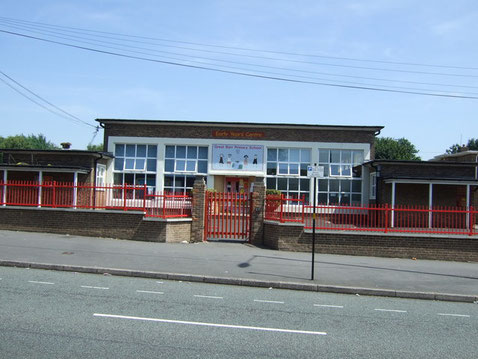 Aldridge Road Council School was opened in 1939 to serve the newly developing district. It had accommodation for 400 pupils of primary age, and for 800 senior boys and girls. By 1941 the junior and infant departments were already overcrowded and the senior boys' and girls' departments became separate schools in 1945. The infants transferred to Delhurst Road in 1949 and this school was used for juniors only.
In 1954 the school was renamed Great Barr County Primary School and accommodated both infants and juniors. The boys' and girls' senior schools were renamed as Great Barr County Modern and amalgamated the following year as Great Barr Comprehensive School, one of Birmingham's first such schools.
See also Perry.
Click to enlarge the images in the Great Barr Gallery.
William Dargue 30.07.2010