William Dargue  A History of BIRMINGHAM Places & Placenames from A to Y
Gipsies Corner
B32 - Grid reference SP008826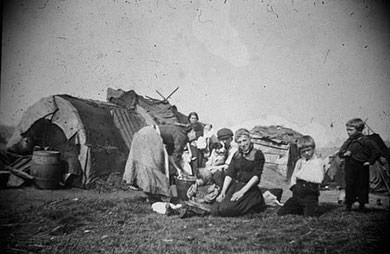 Placenames referring to gypsies are common across the country - Gypsy Lane, Gypsy Hill etc. Here this is a name that is no longer in use: Gipsies Corner was at the junction of Stonehouse Lane, Clapgate Lane and Jiggins Lane. 
The 1851 Census for Northfield recorded 45 Irish gypsies camped here. The number of them is stated but they are give no names and are described as of no fixed abode. There is still open land around this junction and it may be that the site of the gypsy encampment has not been built over.
Gypsies first arrived in England c1500 and were so-called as it was believed that they originated in Egypt. Known to themselves as the Roma they began to move westwards from northern India after the year 1000.
The first of many acts against gypsies was passed in 1530 banning further immigration imposing severe penalties, including death, on any gypsies who stayed. It was not until 1783 that specific anti-gypsy legislation was repealed, although as travellers they were dealt with under a variety of other acts.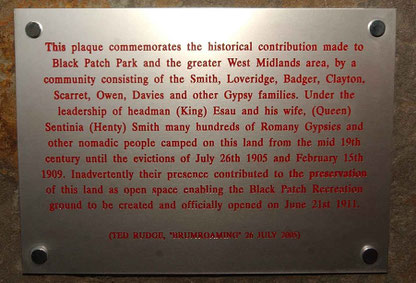 The people recorded in the 1851 Census were described as Irish gypsies. Irish travellers are unrelated to the Romany gypsies, but the term gypsy has long been used to describe any travelling people in England. It is believed that Irish travellers form a separate group drawn originally from the Irish population but of what antiquity is not known. It was once commonly held that they were people driven from their homes during the time of Oliver Cromwell's reconquest of Ireland 1649-1653, but their numbers may have been added to at other times eg. the Great famine of the 1840s. However, it is also argued that they took to the roads many hundreds of years before that. Certainly there is evidence that Irish travellers were here before the Romanies arrived.

The enclosure of agricultural land during the 18th and 19th centuries included as much as a million hectares of common land and caused problems for the gypsies by removing their traditional stopping places. In 1857 the Enclosure Act made it an offence to cause damage to village greens or to obstruct their use as places of exercise and recreation. Throughout the 19th century various acts including the Poor Law, the Vagrancy, Hawkers, Highways, Health, Housing and Education Acts resulted in gypsies being prosecuted or threatened with prosecution for a wide variety of offences such as making fires, damaging grass, having no dog license, damaging crops and begging. Until the 19th century travellers would have lived in tents. It was not until the 1830s that the 'traditional' gypsy caravan began to develop.
However, there were sites such as this one which were regularly used by gypsies. It may be that they were tolerated as they provided casual seasonal labour for farmers.
William Dargue 18.11.2008/ 02.08.2010