William Dargue  A History of BIRMINGHAM Places & Placenames from A to Y
Garretts Green
B26 - Grid reference SP147858
Garrette: first record 1525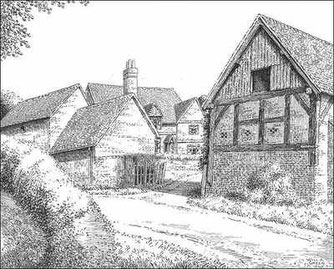 This common pasture of medieval Sheldon lay north of Downsfield Road and Kenmure Road and was named after the Garrett family. William Garrette is documented here in 1525.
A rural hamlet was focussed on the junction of Garretts Green Lane and Sheldon Heath Road by 1834, but it was not until just before the Second World War that urban development began here.
Left: An old farmhouse in Garretts Green Lane, Sheldon - drawn in 1945. Thanks for the use of this image to E W Green, Historic Buildings in Pen & Ink - The Work of William Albert Green.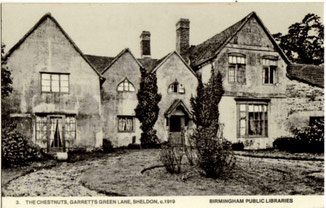 The area was completely urbanised by 1960 at which time St Thomas' Church was built to serve the extensive municipal estates which had been built as a result of a concerted effort after World War 2 to move people out of inner-city slum dwellings.
This spacious church building near the junction of Garretts Green Lane and Sheldon Heath Road was built on a site of a very large house, The Chestnuts. the church is built in a contemporary utilitarian style and was designed by S T Walker and built in brick around a reinforced-concrete frame which is visible on the inside. The large mural of Christ on the east wall is by Mervyn Wright.
Also here as a focus of the estate was built The Chestnut Tree public house, later an Indian restaurant and demolished c2010, Garretts Green Technical College, now demolished and replaced with housing and Sheldon police station. Garrets Green Industrial estate was developed in the 1970s between Garretts Green Lane and the Birmingham to Coventry railway line.

See also Kents Moat.
Click to enlarge the images below.
William Dargue 19.10.2008/ 02.08.2010/ 30.12.2020