William Dargue  A History of BIRMINGHAM Places & Placenames from A to Y
Garrison Farm
B9 - Grid reference SP095866
Garison: first record 1725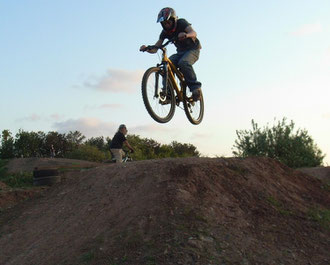 The name of this farm north of Venetia Road and Tilton Road in Bordesley is recalled in Garrison Lane. It supposedly took its name after the Civil War when Prince Rupert's Royalist troops made camp here in 1643, though there is no evidence for this.

In the second half of the 19th century and into the 20th Garrison Farm brickworks was one of many such works in this area using clay which was dug on site. An extensive series of clay pits and brick works stretched from here eastwards along the south of the Birmingham-London Railway as far as Bordesley Green Road leaving an area of dereliction which has still not been completely cleared to the present day.
Birmingham Wheels adventure park was constructed in the late 1970s on the site of the claypits and brickworks, the former site of Garrison Farm. A variety of sports are provided for here including various sorts of biking, skateboarding, skating, go-karting and stock car racing.
William Dargue 05.03.2009/ 02.08.2010