William Dargue  A History of BIRMINGHAM Places & Placenames from A to Y
Gospel Oak
B27 - Grid reference SP124814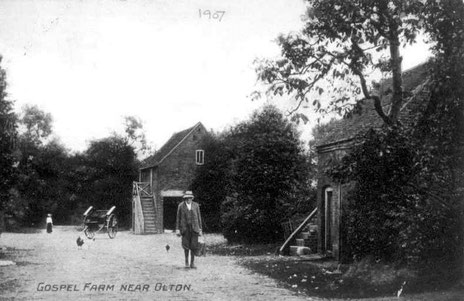 The Yardley Charter of AD 972 describes the limits of Yardley manor with reference to landmarks on the boundary. One section specifies: Of dyrnan ford on brom halas, 'from Hidden Ford to Broom Hollows' following Gospel Lane along the boundary with Lyndon manor. Although Gospel Oak lies on this stretch, the name is probably not Anglo-Saxon but medieval.

This was almost certainly a site on the parish and manor boundary where the Bible was read during the Rogationtide perambulation of the parish bounds. The tradition of beating the bounds is mentioned as early as 747 AD by Archbishop Cuthbert of Canterbury and in some churches continues to modern times.
It was customary in some parishes that children were beaten with sticks at significant points on the boundary or were thrown into streams or ponds in order to impress upon them the limits of their parish. A cross may have been carved on a significant oak as at Gospel Lane south of Leysdown Road where a tree felled in 1846 was believed to be the Gospel Oak. (For more information on parish perambulations see the Glossary N-S.)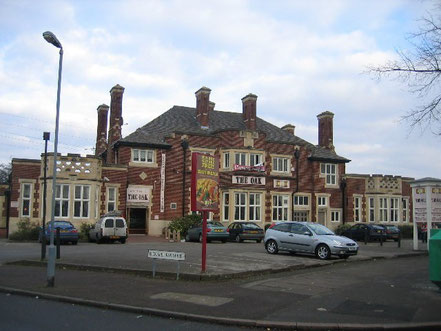 Gospel Farm which was built on an earlier medieval moated site, stood close to the Gospel Oak public house. Owned by the Severne family of Hall Green Hall in late Victorian times, it was bought by the City Council for a housing development after World War 2. It was at this time that the name gained currency as a district name.
The Gospel Oak, now 'The Oak', a 1930s pub on Gospel Lane at the junction with Broom Hall Crescent. © Copyright David Stowell and licensed for reuse under Creative Commons Licence: Attribution-Share Alike 2.0 Generic. Geograph OS reference SP1181.
William Dargue 05.03.2009/ 31.07.2012