William Dargue  A History of BIRMINGHAM Places & Placenames from A to Y
Greens Village
B1 - Grid reference SP068866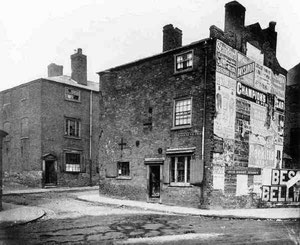 Known as such from the mid-18th to the mid 19th century, this was a notorious slum area off Hill Street in the town centre, of crowded back-to-back houses. It probably takes its name from the landowner. There was a large Irish population here. In 1841 of some c350 residents listed, nearly one third had been born in Ireland and a high proportion of them were unskilled labourers.  
Photograph: Slums at the corner of Greens Village and John Bright Street (date unknown). Image 'All Rights Reserved' courtesy of Professor Carl Chinn from his BirminghamLives collection 

See also The Hinkleys.
William Dargue 02.08.2010/ 14.10.2012