Gilbertstone
B26 - Grid reference SP135848
First record 1275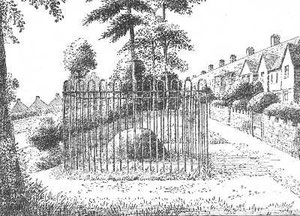 There is a local story that the Gilbertstone was brought here by a giant called Gilbert. This seems unlikely. It was more probably named after the Gilbert or Gilbard family who were recorded in this area between 1220 and 1410.
The Gilbertstone is an erratic boulder which was pushed here from North Wales by glaciers over 10 000 years ago. Located near the junction of Manor House Lane and Ollerton Road probably from medieval times, it was used to mark the meeting point of the parishes of Sheldon, Bickenhill (Lyndon Quarter) and Yardley, and may have been moved there for that purpose.

As the result of road works in 1937, the Gilbertstone was removed and placed on the Coventry Road west of Brays Road, to be moved yet again in 1952 to Lyndon Green Junior School. Here it lay forgotten, buried under the grass until 1965 when it was revealed. In about 1975 the Gilbertstone was taken to Blakesley Hall Museum for safe keeping where it remains.

There was a small medieval settlement here called Shawley or Shirley, neither of which names are in use here now. The name, which was first recorded as Shawley in 1495, may mean 'shire clearing', as the county boundary crossed the Coventry Road east of Clay Lane. Sheldon and Lyndon were in Warwickshire while Yardley lay in Worcestershire. Alternatively, the name may derive from Old English sceaga, 'a little wood'.

There are a number of medieval moated sites in close proximity here: at Clay Lane and Lyndon Road were sites evidenced by fieldnames, Moat Leasow and Moat Meadow. Substantial farm houses would have stood within the moats, the homes of wealthy local families. On Moat Lane at Gilbertstone Recreation Ground was a moat 45m square which is now covered by a car park and an electricity substation. And on Lyndon Playing Fields at Gilbertstone Avenue was Moat Meadow where the old parish boundary made unexplained right-angled turns which almost certainly showed the position of the moat. It is likely that these were members of the same medieval family, enterprising farmers working hard to make a living off the forested clay lands.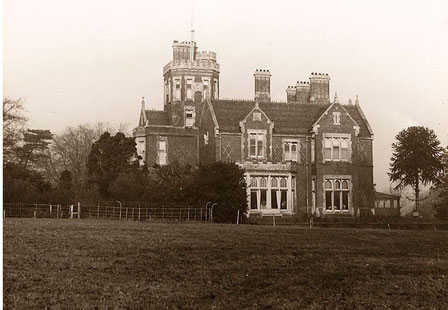 Gilbertstone House, on the north side of the Coventry Road on the present site of Saxondale Avenue, was built in 1867 for the Birmingham industrialist, Samuel Thornley, on the site of a small farmhouse.
In 1883 another wealthy industrialist, Richard Tangye bought the property and employed Castle Bromwich architect J J Bateman to extend the house into a very large gothick residence with a 20m high tower. There were extensive grounds with a lake and a boathouse.

Thomas Rowbotham was a developer who lived in the house whilst beginning to develop a housing estate on the surrounding land. It was he who gave the land on which to build the church of St Michael and All Angels on Rowlands Road. Sir Hanson Rowbotham, subsequently sold the estate and the Gilbertstone House was demolished in 1937. The building of the estate was interrupted by World War 2, but completed shortly after the war.
William Dargue 05.03.09/ 01.08.2010