William Dargue  A History of BIRMINGHAM Places & Placenames from A to Y
The Hinkleys/ The Inkleys
B1 - Grid reference SP067866
Hinklys: first record c1300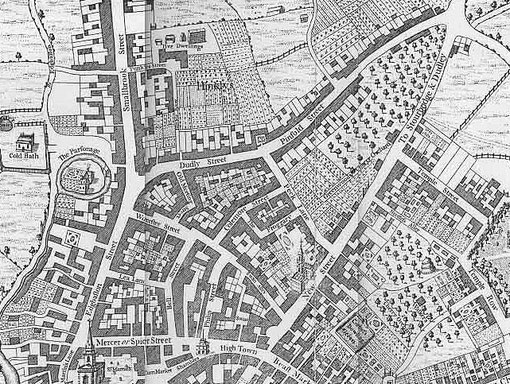 Shown on Westley's map of 1731 between Dudley Street and Smallbrook Street, the Hinklys was set out as a close of allotment gardens on the edge of the built-up town.
When the twice-yearly horse fairs were held in Edgbaston Street, the close was used to keep the horses in before and after the sale. (See Horsefair.)
Aris's Gazette ran an advertisement on 15 November 1783 describing a property for sale on the edge of the town:
To be Let . . .
A substantial Messuage or Dwelling House, situate in the New Hinckleys, consisting of Three Rooms on a Floor with three good Cellars, a Stable for Two Horses, a large Garden and Summer House all entire, late in the Occupation of Mr. John Taylor, deceased.
[Taylor was a Birmingham millionaire button-manufacturer.]
The House will be very convenient for a Manufacturer, as there is some vacant land adjoining the said Garden, upon which the Proprietor has no objection to build any Quantity of shopping that may be required for a responsible Tenant.

The second paragraph of the advertisement indicates the shift in the area's status. And by the middle of the 19th century the Hinkleys or Inkleys had deteriorated into one of Birmingham's worst slum areas. This was low-lying and poorly-drained land. When J A Langford was writing his Century of Birmingham Life in 1868 he described the district as 'occupied by the worst class of houses in the town. . . . Not a green thing could live, not a flower could blossom there now'.

The name is preserved in Hinckley Street which was laid out on Hinckley Field. Of medieval origin, this may derive from Hink's leahe ie. 'Hink's clearing'. The Hinckley family, who presumably took their surname from the place, were prominent in Birmingham and are documented from the early 1300s.

Adjacent to the Hinkleys was Greens Village, lying between Hill Street and Suffolk Street. It was an equally disreputable district, its cheap housing home to immigrants to the town. By the third quarter of the 19th century about a quarter of the population in these areas were born in Ireland. In 1852 the whole district was razed to the ground when the London & North-Western Railway began the construction of New Street Station for trains to Liverpool and London.

See also The Froggery.
William Dargue 27.03.2009/ 01.08.2010