William Dargue  A History of BIRMINGHAM Places & Placenames from A to Y
Harts Green
B17 - Grid reference SP023841
First record 1733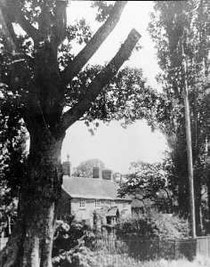 Around the junction of Northfield Road and Tennal Road, land was rented by Joseph Hart in 1733. The term green usually denotes an area of common grazing land and may be medieval.
Residential development spread to Harts Green during the late 19th century with the expansion of Harborne. The 19th-century buildings of Harts Green Farm survived near the junction of War Lane and Vicarage Lane until the 1930s when the Harts Green housing estate was built. The name is no longer in use, the area being considered part of Harborne.
Harts Green Farm. Image 'All Rights Reserved' courtesy of Bernard Taylor of the Quinton Local History Society from the John Hope Collection. 
William Dargue 17.03.2009/ 07.09.2012