William Dargue  A History of BIRMINGHAM Places & Placenames from A to Y
Highters Heath
B14 - Grid reference SP087790
Heyters Heath: first record 1495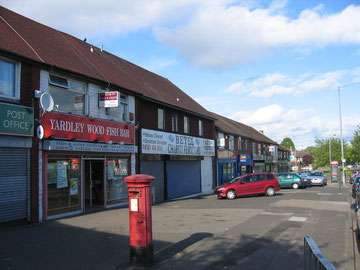 This heath, which lay south of Highters Road, derives its name from a family name, Hayter. Sandy soil underlying heathland made poor farmland and would have been covered with tough grass and low bushes. Until such land was improved from the 18th century onwards, heath provided only poor quality grazing for livestock.

The junction of Prince of Wales Lane and Gorleston Road is the probable site of Highters Heath cross which is documented in a perambulation of Yardley manor in 1495. It marked the meeting point of the manors of Yardley, Kings Norton and Solihull. The term 'cross' may have referred simply to the crossroads, or it may have been a preaching cross.
At that time this was an area of intercommoning woodland shared by the people of the three parishes for grazing pigs or collecting firewood. The woodland diminished rapidly after Tudor times. When the district between Maypole Lane and Warstock Road was developed for housing beginning after the First World War, the whole area was given the name of the heath. The main housing developments took place here after World War 2.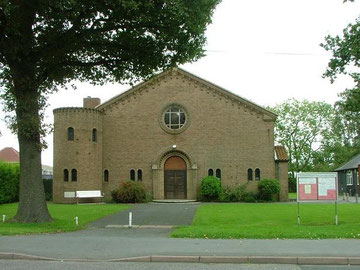 Immanuel Church opened on Highters Heath Lane in a temporary wooden building in 1938. The following year work began on the permanent church building, but this was interrupted by the outbreak of World War 1 and in 1940 only the nave had been completed which was nonetheless consecrated by the Bishop of Birmingham that year.
Photograph of Immanuel Church from A Church Near You website.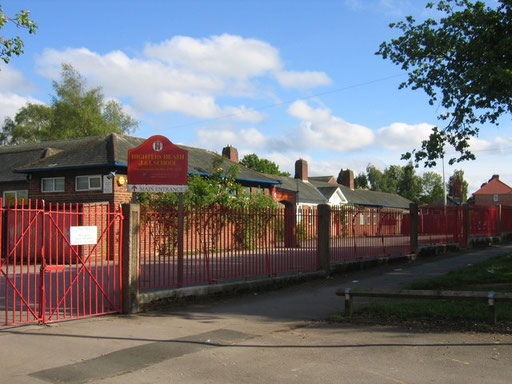 William Dargue 23.03.2009/ 08.10.2012