William Dargue  A History of BIRMINGHAM Places & Placenames from A to Y
Halfway House/ Half Way House
B74 - Grid reference SP117984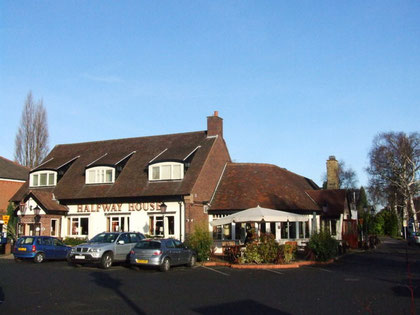 This is the name of a public house on the Lichfield Road at Ley Hill, Sutton Coldfield, which was used the name of a location in the 1861 Census.
This pub name is commonly found on Georgian turnpike roads. The name here probably derives from the fact that it lay roughly equidistant between Birmingham and Lichfield. The 1889 Ordnance Survey map shows a milepost opposite the pub advising that the distance to Lichfield was 7 miles, the distance to Birmingham 8 miles. The same map names the pub as The New Inns, suggesting that it had been rebuilt.
Including the pub, there were six dwellings here in 1861. John Leader was the publican and, with his brother's help, a market gardener. Other people in the hamlet were mainly agricultural labourers, but there was also a chimney sweep, a sewer and a laundress. The pub, rebuilt again and known once more as The Halfway House, is still there on Lichfield Road between Four Oaks and Mere Green.
William Dargue 24.01.2009/ 02.08.2010