William Dargue  A History of BIRMINGHAM Places & Placenames from A to Y
Ley Hill, Sutton Coldfield
B74 - Grid reference SP114983
la Lee: first record 1295; Ley Hill 1298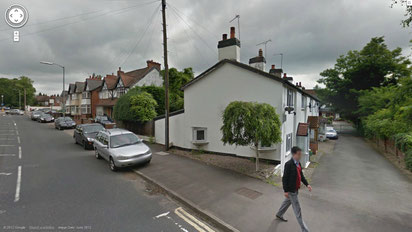 During the Middle Ages Ley Hill was simply la Lee from the Old English leah meaning a '(forest) clearing', or rather perhaps a settlement in a clearing in forested country. It is a common placename element in the Birmingham area. The hill rises between the Lichfield Road and Four Oaks Road, but the name may have been used of the stretch of the Lichfield Road between the junctions with Four Oaks Road and Mere Green Road. 
The 1841 Census lists 9 households here, with most of the heads of household being employed in agriculture. Cottages still standing north and south of the Halfway House/ New Inn on the Lichfield Road can be seen on the 1834 Ordnance Survey map and the southerly ones are named as Ley Hill Cottages on the 1889 map. 
Ley Hill Farm is shown on the 1899 Ordnance Survey map with The Fordrough now representing the former approach to the farmhouse. The bridge over the railway off Irnham Road was built about 1884 when the Sutton Branch Line from New Street Station was extended to Lichfield. It allowed the continued use of a farm track to Ley Hill Farm between Four Oaks Road and the Lichfield Road. It is now used as a footbridge.

Ley Hill is not in use as a district name but is used a streetname, Ley Hill Road, a little way from the hill itself.

See also Halfway House (and Ley Hill, Northfield).
William Dargue 02.04.2009/ 23.07.2012