William Dargue  A History of BIRMINGHAM Places & Placenames from A to Y
Lyndhurst
B23 - Grid reference SP114927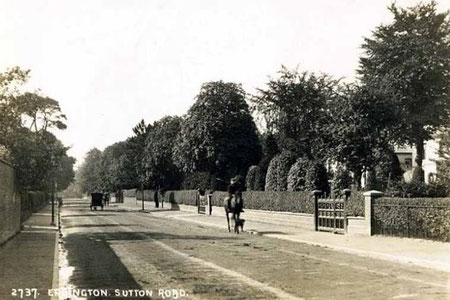 On Sutton Road north of Erdington village just before the junction with the Chester Road is the Lyndhurst estate.
In the 1840s a number of large detached houses had been built surrounded by extensive gardens.
These elegant stuccoed villas provided a rural retreat for well-off middle-class residents.
Further building in the area was stimulated by the opening in 1862 of Chester Road station on the Sutton Branch railway.
The houses were demolished in the late 1950s to make way for an estate of mixed low- and high-rise buildings.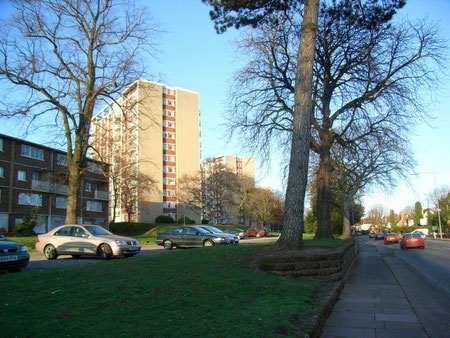 Birmingham's City Architect, A G Shepard Fidler was keen to improve the quality and housing estates currently being built and promoted mixed developments of traditional houses, maisonettes and good-quality tower blocks, all designed in matching styles.
As many mature trees as possible were kept as possible. A landmark row of five tower blocks were built set at angle to Sutton Road and a 16-storey block was the tallest in Birmingham at the time. In 1961 the estate won a Civic Trust design award.

However, during the later years of the 20th century the estate has suffered problems of anti-social behaviour and drug dealing and moves are underway to demolish a number of tower blocks, to rebuild some of the maisonette blocks, to refurbish the houses and to regenerate the estate. 
The maisonette blocks, community facilities and two tower blocks, Burcombe Tower in 2010 and Harlech Tower in 2011 have been demolished with the five remaining tower blocks being refurbished. New semi-detached homes have been built and the Lyndhurst recreation ground has been relocated to the centre of the estate.
 
The origin of the name is unknown, but its Anglo-Saxon meaning would be 'lime-tree' 'wooded hill'.
William Dargue 04.04.2009/ 18.08.2012/ 24.01.2021