William Dargue  A History of BIRMINGHAM Places & Placenames from A to Y
Little Sutton, Little Sutton Common
B75 - Grid reference SP129994
Lytle Sutton: first record 1569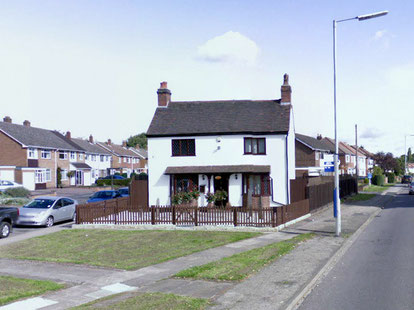 Names prefixed with 'little' were often set up as secondary settlements. Although the first record of Little Sutton is not found until the 16th century, the settlement and placename are probably much older. Until the time of Henry VIII, the manor belonged to the nearby Canwell Priory in Staffordshire. With the dissolution of the monasteries, the estate went to the Cardinal's College Oxford. This was founded by the King's chancellor, Cardinal Wolsey, and is now known as Christ Church College.

Little Sutton is on an area of higher ground at the junction of Little Sutton Road, Slade Lane and Grange Lane, two miles north of Sutton Coldfield. The 1841 shows a rural village here of over 30 households with a publican, grocer and blacksmith, but most people were employed in agriculture. One or two cottages survive from the 19th century.
Private housing development took Little Sutton into the Sutton conurbation in the mid-20th century and the district now lies on the eastern edge of the built-up area.

At Little Sutton Common on Fox Hill on the Tamworth Road crop marks have been noted indicating a settlement of uncertain date. The marks possibly show buildings and field enclosures of a late Bronze Age or Iron Age date.

During the 18th century Fox Hill was the location of a gibbet. Highwaymen were a constant danger at this time. A public spectacle was made of captured criminals whose tarred bod1ies were left to hang on the gibbet until replaced by another. In 1728 Holy Trinity church register recorded:
'Buried Thomas Eastham, a stranger, found murdered at the Upper end of Holly Lane [now Lindridge Road], by Edward Powers, who was gibbeted on Little Sutton Common.'
See also Muffins Den and Sutton Coldfield.
William Dargue 04.04.2009/ 23.07.2012