William Dargue  A History of BIRMINGHAM Places & Placenames from A to Y
Longmore/ Longmoor
B74 Grid reference - SP094958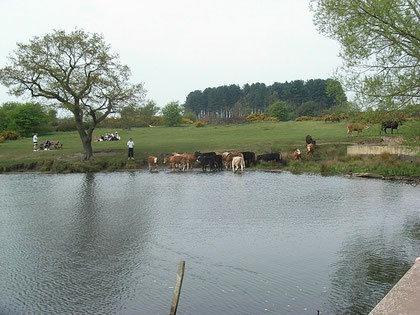 Longmore is a location within Sutton Park. Its name is medieval and means 'long marsh'. Longmore Brook flows parallel to the western boundary of the park through a shallow valley of marshy alluvial deposits. In contrast to the heathland of much of the park, this is fertile land with lush grass that provides good grazing for livestock.

In 1735 Joseph Gibbons and John Riland, both later Wardens of Sutton Corporation, took a lease on land at Longmore paying the Corporation the rent of one shilling a year.
They dammed Longmore Brook at a point roughly east of Banners Gate to create Longmore Pool to provide a head of water for their watermill to grind corn.
The mill was turned to button polishing by Richard Reynolds by 1760. The mill continued to operate until the end of the 19th century after which the abandoned buildings fell into disrepair. The derelict mill was demolished in 1938 and no visible traces now remain. However, the substantial pool survives and the roadway passes over the dam.

Evidence of the Bronze Age
To the north of the pool archaeologists have found intriguing evidence of the Bronze Age in an enlarged channel of a tributary of Longmoor Brook. Parts of tree trunks up to 3000 years old were unearthed in an 18th-century peat pit. The timber shows clear signs of axe marks and its layout strongly suggests a timber trackway. The existence of such a trackway implies that a village stood nearby further up the hill. However, no evidence of the settlement is known. The timber track may have survived because of local wet and airless conditions; a timber and thatched village in other circumstances would leave little trace.
William Dargue 04.04.2009