William Dargue  A History of BIRMINGHAM Places & Placenames from A to Y
Lozells/ The Lozells
B19 - Grid reference SP063893
Lorres Hill, Lowsill: first record 1546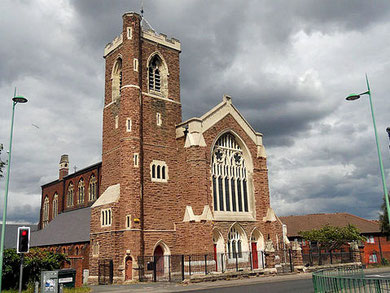 On the crest of the hill at the junction of Lozells Road and Wheeler Street stands the former Anglican church of St Paul. Designed by perpendicular style J A Chatwin in 1880 the recently restored Grade II Listed building is now used by the Assemblies of the First Born Church of God.
Wheeler Street follows the route of the Roman Icknield Street and it may be that the Roman army built a mound here as a signal post. Certainly, low was the Old English word for a tumulus, a word often used to denote a man-made mound.
However, the origin of this placename is open to debate. It is documented in 1546 as Lorres Hill or Lowsill, and may come from an Anglo-Saxon personal name, ie. 'Lor's wood'. It may simply derive from Lowes Hill after Lowe's Farm which stood by Hockley Brook, although this does not explain the 'Lorres' variant.
Another explanation of the name is based on a term used in Middle English from the 14th century which derives from the verb 'to lose'. A lorel, or losel, was thus 'a loser, a rogue, a scoundrel'. The term continued in use into the 19th century. This locality was sometimes known as The Lozells.
Lozells Wood was the common waste of Aston manor in the Middle Ages where local peasants had the right to pasture their livestock.

In 1727 the road to Walsall was turnpiked. Travellers from Birmingham set out from Bull Street via Constitution Hill, down Hockley Hill to cross Hockley Brook, then up Soho Hill to Hamstead Road. The route was used by stagecoaches from 1752. Tollgates were erected on Great Hampton Street north of Hockley Street, and one at the junction of Hamstead Road and Villa Road at the west end of Lozells. The gate here was removed in 1872 and the toll house itself subsequently used as a private girls' school.

On Handsworth Heath north of Lozells, Tower Mill or Hutton's Mill on Johnstone Street was an unusual and unsuccessful venture. William Hutton built a windmill here in 1759. Earning his living selling paper and books from his shop on the High Street in town, he also wanted to print and bind books. Although he knew nothing about paper making, he built a mill for this purpose. The business failed to thrive and Hutton allowed himself to be convinced by his miller that grinding corn would be more profitable, and changed tack. But he knew nothing about corn-milling either and was cheated by his miller. Losing some £2000 in the scheme, Tower Mill was sold in 1762 and subsequently used for polishing brass nails. The mill building was demolished before 1870 for housing, although the millhouse survived for some time later as a farmhouse.

On Lozells Road near Francis Road was a Georgian country house and location known as Aston Villa. This had gone by 1833. The nearby Wesleyan church which took its name from the house, had an adult Sunday school with an amateur football team whose home ground was a pitch on Wellington Road from 1874. In 1885 the team turned professional and in 1888 committee member William MacGregor was the prime mover in setting up the Football League, of which Aston Villa became one of the twelve founder members. In 1896 the team took a lease on part of Aston Lower Grounds, later draining Dovehouse Pool to build their permanent football stadium, Villa Park.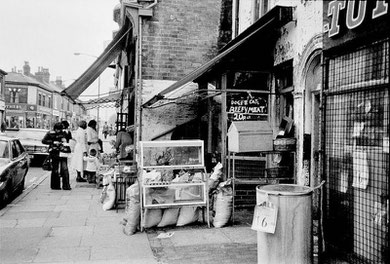 Lozells developed slowly up to about 1830. A map of 1833 shows Lozells Farm at the junction of Lozells Road and Lozells Street (south-west corner) with a scattering of houses at the east end of the lane. However, by 1860, much of the area was built up with good quality artisan housing, including the Wheeler Street estate laid out by the Birmingham Freehold Land Society which set a high standard of working-class housing provision. By 1881 the district was completely urban and building had spread northwards as far as Aston and Handsworth.

Schools
The area became densely populated by the end of the 19th century, as the number of schools in a relatively small area bears witness: St Mary's RC School 1850, St Silas' National School 1852, St Matthias' National School 1858, Gower Street School 1862, Lozells Street Board School 1882, Burbury Street Board School 1891, and Anglesey Street Board School 1894.
Churches
The number of churches is equally impressive. Anglican churches built here in the 19th century were St Silas' church consecrated in 1854 and now a Grade II Listed building; St Matthias church in Wheeler Street opened by 1855, closed 1948; St Saviour's on Villa Street designed by J A Chatwin consecrated in 1874, closed by 1966; St Paul's on Lozells Road also by Chatwin is built in perpendicular style in 1880, St Edward's, now demolished, was a Presbyterian church c1853 on New John Street West which was bought for the Church of England in 1896.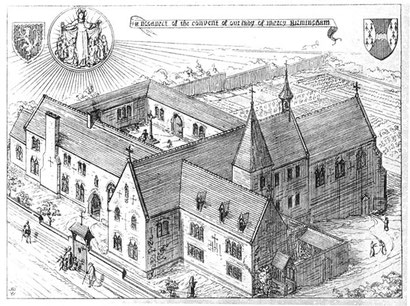 Take a look. On Hunters Road St Mary's, the Convent of Our Lady of Mercy was the first Roman Catholic religious house to be built in the area since the Reformation.
It was designed by A W N Pugin in 1840 in Tudor style, and the chapel was used as the Roman Catholic parish church until the opening of the church of St Francis of Assisi in 1847. The present St Francis' was built in 1894.

There is also a Methodist church on Gerrard Street, a Swedenborgian church of 1876 in Wretham Road, and St George's Presbyterian Church of 1896 in Heathfield Road. 
Left: Convent of Our Lady of Mercy from A W N Pugin 1843 'The Present State of Ecclesiastical Architecture', scanned image by George P. Landow from The Victorian Web.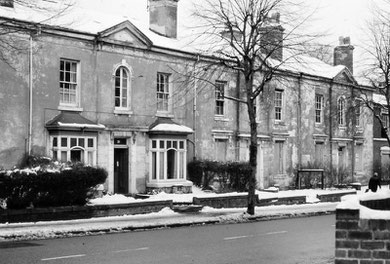 Because of the good quality of house building in much of Lozells, the district was not included in the 1960s redevelopment of neighbouring Newtown, and many Victorian streets and houses survive. The Lozells & Soho Hill Conservation Area includes high-quality Listed buildings in Hunters Road, Barker Street, Villa Street and neighbouring streets.
However, there were courts of back-to-back houses, in the Berners Street and Wilton Street area, for instance, which were demolished and redeveloped in the late 1960s. Some of these 1960s' houses were demolished in the first decade of the 21st century and they in their turn have been replaced. 
Jan Daniells née Sharred wrote to the author:
I lived in Lozells from 1961-1967 in back-to-backs in Berners Street. They were eventually condemned as being "unfit for human habitation" (a phrase that impressed me as a 7 year old, even though I didn't understand it!) and we, and all of the other inhabitants, were relocated to other areas of Birmingham to allow for the redevelopment of that area.
We used to have an intriguing address - 2 back of 121 Berners Street! As a youngster, I assumed that all people had such addresses. It was only when we were rehoused that I realised that not everyone had either the addresses that we had or the unusual shared arrangements of a shared back garden/yard & shared toilet & "brew house" for doing the weekly washing! The houses had a small sitting room, a tiny kitchen with steps going down to the cellar & stairs going upstairs where there were 2 levels with 1 bedroom on each. All 4 children slept in the top bedroom whilst my parents slept in the 1st floor bedroom.
Click to enlarge the images in the Lozells Gallery below.
William Dargue 04.04.2009/ 06.04.2010