William Dargue  A History of BIRMINGHAM Places & Placenames from A to Y
Little Italy/ The Italian Quarter
B5 - Grid reference SP076869
First record c1900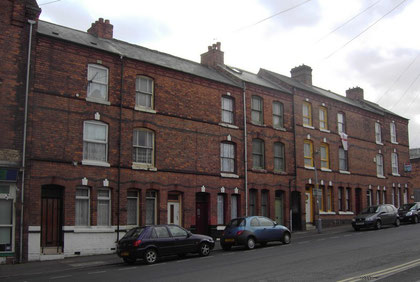 There had been a tradition of Italian strolling performers in England from at least the beginning of the 18th century. Most were to be found in London, but small numbers were present in other large cities including Birmingham.
However, in the early years of the 19th century Italian emigration increased dramatically as rural society went through major changes. Factors, including the Napoleonic occupation, famine, rising food prices and increased population growth resulted in many Italians undertaking seasonal migration to surrounding countries. A small number ended up in Britain and some stayed here.

By the 1820s Italian entertainers and traders were a feature of London street life. Early migrants travelled on foot from the northern Italy. Some were skilled artisans making precision instruments such as barometers and others were artists in plaster.
With the coming of the railways there were by the 1870s immigrants from Parma, many of them organ grinders, and from Naples in the impoverished south, many of them ice-cream makers. A quarter in London's Clerkenwell became the centre of England's Italian community and was known, then as now, as 'Little Italy'. As numbers increased, families of Italian origin increasingly spread across the country.

By the second half of the 19th century an Italian quarter began to develop around the Fazeley Street area in Digbeth where rented accommodation was of poor quality but cheap. This Birmingham district was also nicknamed Little Italy. Many Italians made a precarious living as street sellers or as entertainers working the Bull Ring. Some moved into food production: there were Italian confectionery shops and stalls in the market and the City Centre in the early years of the 20th century, as well as cafes and fish & chip shops.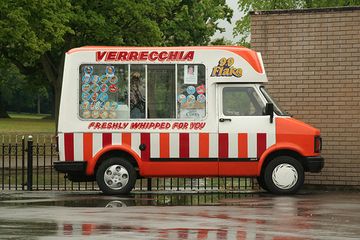 In Bordesley Street, Bartholomew Street and New Canal Street the 1891 Census lists 53 people either born in Italy or of Italian parentage. 19 were organ grinders (there was also a harpist and a violinist) and 12 were ice cream vendors.
19 were named Verrechia, while other family names include Cavolure, Campadimico and Demiglio. A boarding house in Bartholomew Street took 17 Italian lodgers, most of them in their 20s and every one an organ grinder.  

The Italians are still best remembered in Birmingham as manufacturers and street-sellers of ice-cream. They plied their trade around the city until after the Second World War selling from hand-carts and attracting customers by ringing a handbell. Some ice-cream firms with Italian connections still exist.
During World War 2 Italian men who had lived in Britain for less than 20 years were faced with internment as enemy aliens, being held in camps in different parts of Britain. This, and the redevelopment of the central bomb-damaged district led to the rapid dispersal of the community.
William Dargue 04.04.2009