William Dargue  A History of BIRMINGHAM Places & Placenames from A to Y
Lyndon, Lyndon End, Lyndon Green
B26/ B92 - Grid reference SP144839
Linde: first record 1221, Lynedene 1262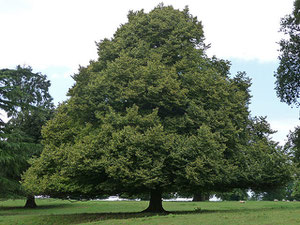 Old English lin means 'lime tree' (or possibly 'flax' - see Flaxley). Linde is recorded in 1221 and in 1262 Lynedene is documented meaning 'lime tree valley', probably a reference to Hatchford Brook. The lime tree referred to is the native small-leafed lime (The common lime is an 18th-century import from mainland Europe for use in the country parks of stately homes). Limes produce fairly soft wood which is suitable for carving and for making laths for wattle and daub. The fibrous inner bark known as bast was used to make ropes. Lime does not take kindly to grazing animals, so in wood pasture this tree tends to be restricted to inaccessible places. It is interesting to speculate why the tree should have been significant in the Hatchford valley.

Lyndon manor house has left no trace. It stood on a moated site south of Westley Brook near the junction of Church Road, Horse Shoes Lane and Common Lane. A later Lyndon Manor house stood at the junction of Manor House Lane and Barrows Lane surviving in a derelict state until c1970 when it was demolished.

Lyndon was a detached part of the manor Bickenhill until 1931 when part of it was amalgamated with Birmingham. House building had already begun in the area by this time as the urban area of the city expanded outwards. By the outbreak of World War 2 the district was largely built up with private housing. Part of the district now lies in Solihull, part in Birmingham.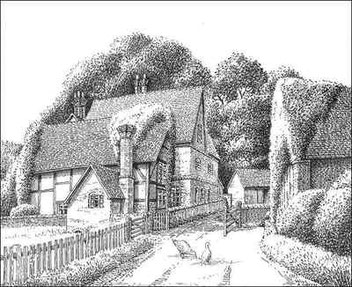 Lyndon Green was the green or common pasture belonging to the manor of Lyndon. This district lies around the junction of Barrows Lane and Brays Road and is shown as Lyn Green on the Ordnance Survey map of 1834 and as Lyne Green in the 1861 census. It lay right on the boundary with Yardley. Lyndon Green windmill is not shown on early 18th-century maps but is evidenced by Windmill Close in the 1840 Sheldon tithe apportionment and map.

Lyndon End is at the junction of Barrows Lane and the Coventry Road; the name is no longer in use.

At Lyndon Road and Daylesford Road was Lyndon Orchard or Line Orchard.
Above: The 17th-century Lyndon Green Farm, Barrows Lane demolished 1939, drawn 1937. Thanks to E W Green, Historic Buildings in Pen & Ink - The Work of William Albert Green.
William Dargue 04.04.2009/ 01.08.2010