William Dargue  A History of BIRMINGHAM Places & Placenames from A to Y
Hunton Hill
B23 - Grid reference SP101907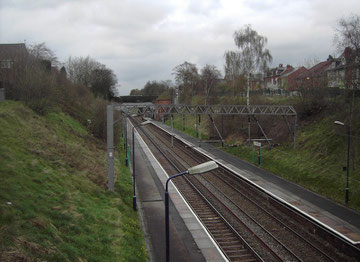 Off Gravelly Hill, this is a name of uncertain origin, meaning and date. The final element may be from Old English, ton, meaning 'farm, settlement, village' or from dun, 'hill'.
The 1834 Ordnance Survey map shows Hunton Hill marked south of the road now known as Hunton Hill; the 1889 map shows the road as Station Road. The name Hunton may be an import - there are over a dozen such placenames in the country from the Orkneys to Kent. However, this seems unlikely as the area was almost entirely agricultural before the building of the railway and the opening of Gravelly Hill station on the Sutton Coldfield Branch Line in 1862.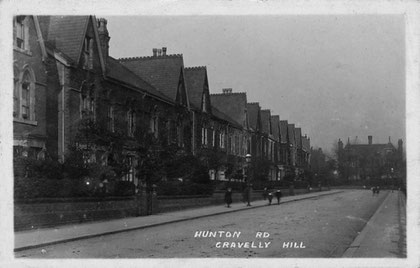 Above: The Sutton line cuts through the ridge that is Hunton Hill. The photograph is taken from the road known as Hunton Hill looking towards the City Centre.
Right: Hunton Road. The junction with Hunton Hill is a little way behind the photographer. This is the posh end; the houses get progressively smaller along the road. Image from Old Birmingham Pictures uploaded to that site courtesy of ianfofb of the Birmingham History Forum. 
William Dargue 28.03.2009/ 20.11.2012