William Dargue  A History of BIRMINGHAM Places & Placenames from A to Y
Happy Valley
B14 - Grid reference SP089797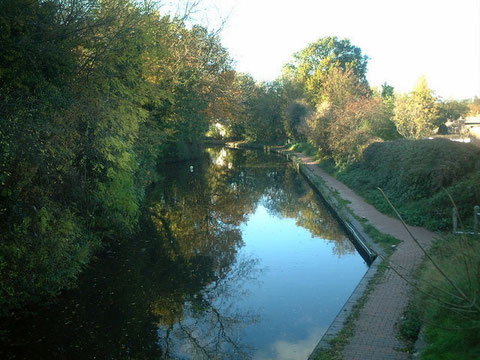 Happy Valley, a common name across the country, was the area around the bridge over the Stratford Canal at Yardley Wood Road perhaps as far as the Shirley drawbridge at Majors Green. The canal was cut in 1793, but this name probably dates from the end of the 19th century.
Steve Lloyd (planetearthisblue - see photograph left.) contacted to say that he has in his posession 'a postcard, one of the series produced by the Alcester Lanes End Post Office, entitled "Happy Valley, Yardley Wood" with a postmark dated September 9th 1913.'
The valley in question is that of the Chinn Brook along which the canal winds its way. The meadows here became a favourite rural picnic spot for people from Birmingham some 6 miles distant. Boats could be hired from what had been the coal wharves, a fairground was set up, there were tea shops and concerts were held in a pavilion. The Happy Valley Tea Gardens were near the site now occupied by the Yardley Wood Omnibus Garage opened by Birmingham City Transport in 1938.
Part of the Happy Valley site was brought back into use for a local community festival in 1980 with a fair, pony rides and entertainers. The festival has been held annually since then.
Images below of Happy Valley from the Acocks Green History Society website used in accordance with their terms and conditions. 
William Dargue 16.03.2009/ 20.11.2012