William Dargue  A History of BIRMINGHAM Places & Placenames from A to Y
Holloway Head/ Holloway Hill
B1 - Grid reference SP067862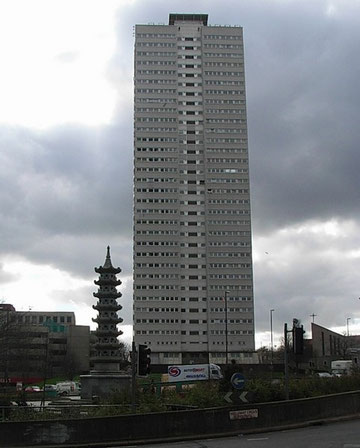 Holloway Hill rises from the junction of Bristol Street and Smallbrook Queensway. The name Holloway Head originally referred only to the top of the holloway which ascended from Birmingham up the road now called by that name.
This was an important route, being not only the road to Edgbaston and Halesowen but, before the Bromsgrove turnpike was improved in 1771, it was the main road to Bristol.

Depending on the soil type and underlying geology, well-used unmetalled roads on slopes often become worn away by centuries of traffic. The plant layer which binds the surface is first worn away and the soil is then eroded by rain. Winter rain create water channels which further erode the surface.
The holloway at Camp Hill is said to have been so deep that a fully laden hay cart could pass up it without being seen. William Hutton reckoned its depth to be 14 yards, over 12 metres.

When it was first built up in the late 1700s the lower part of Holloway Head was called Exeter Row, a name it kept for about a hundred years. By the end of the 19th century the whole road was known as Holloway Head.
See also The Chinese Quarter.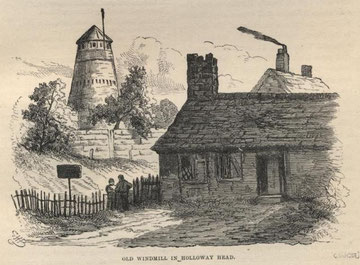 Holloway Hill Windmill or Chapmans Windmill was built in brick in 1745 by Samuel Chapman and replaced an earlier wooden mill of unknown date. During a storm in March 1778 the mill was struck by lightning, the miller Thomas Griffiths was hurt, and the sails were shattered.
By the 1850s the mill was in ruins, but was subsequently converted into a summer house and camera obscura with a clear view of the town and surrounding country.
The buildings were demolished in the mid-1870s. Clydesdale Tower now stands on the site of the mill, which is recalled in nearby Windmill Street.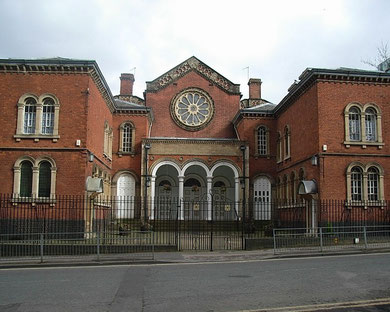 Singers Hill Synagogue
Holloway Head became a focus for the Jewish community from the end of the 18th century. This was a poor community many of whom made their living as travelling pedlars.
In 1780 there had been a synagogue in The Froggery, now the site of New Street Station. This was replaced by a synagogue in Hurst Street in 1791, which was in turn replaced by a synagogue in Severn Street; the building, later a Masonic Hall, still stands and has been recently converted into residential apartments.
In 1856 on Blucher Street, the Singers Hill synagogue designed by Yeoville Thomason was opened. This is the oldest purpose-built synagogue in the country which is still in use.
At the foot of Holloway Hill on either side of the road stand two tall tower blocks, Clydesdale Tower and Cleveland Tower. Built in 1971 and known as The Sentinels, they were the last development in the rebuilding of Lee Bank. When built they were the tallest council-owned blocks in Europe. The Lee Bank estate has been demolished and has redeveloped as Attwood Green by a housing association which has also refurbished the towers.
William Dargue 27.03.2009/ 30.11.2020