William Dargue  A History of BIRMINGHAM Places & Placenames from A to Y
Handsworth Wood
B20 - Grid reference SP052909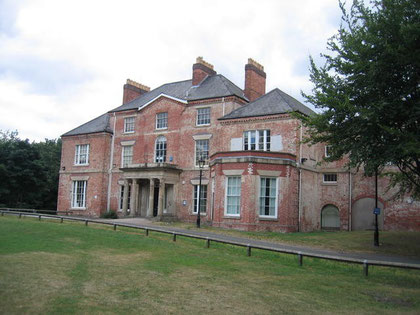 Hawthorne House was originally a Georgian building. However it was heavily altered in Victorian times with further additions in the early 19th century. In 1841 it was the home of Bullock the ironmaster who had a foundry in West Bromwich. It is a listed building and now used as a public library.
The house, which lies between Hamstead Hall Road and The Spinney, formerly stood in extensive grounds which have now been sold for private housing.
© Copyright David Stowell and licensed for reuse under Creative Commons Licence: Attribution-Share Alike 2.0 Generic. Geograph OS reference SP0491. 
Handsworth Wood was the woodland belonging to the manor of Handsworth and lay in the north of the manor. It is the 'woodland half a league long & the same wide' which is cited in the Domesday Book in 1086. There was still woodland remaining which is shown on the Ordnance Survey map of 1834, including Butlers Coppice south of Wood Lane (See coppicing in the Glossary).
In 1890 the remnants of Handsworth Wood are shown just north-east of the junction of Wood Lane and Butlers Road. The site is now a playing field surrounded by a line of trees remaining from the ancient wood.
By the end of the 19th century there was only scattered building development in this rural area, some of it very large houses for the wealthy. Beyond Friary Road/ Handsworth Wood Road was still farmland. It was between the two World Wars and up to the 1950s that Handsworth Wood was developed largely with private housing. It is an area that has maintained its middle-class status to the present.
William Dargue 26.10.2008/ 15.10.2012