William Dargue  A History of BIRMINGHAM Places & Placenames from A to Y
Harpers Hill
B3 - Grid reference SP062876
Harpur's Hills: first record 1772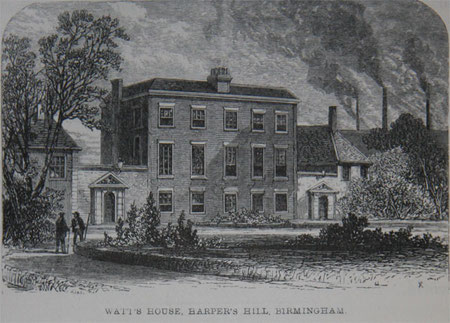 Harpers Hill, the rising ground at the top of James Street in the Jewellery Quarter, Hockley, is probably named from a previous landowner.
A blue plaque commemorates the fact that from 1775 to 1790 James Watt lived at a house called Regents Place on Harpers Hill, its entrance at the north end of the street. It was a large double-fronted house built in brick with stone facings, at that time on the outskirts of the town.
The house itself was demolished c1885, but the caretaker's house at Deakin & Francis Ltd, 17 Regent Place, is one of the outbuildings of the original house. In 1790 as the town came nearer, Watt moved to Heathfield in Handsworth.
When St Paul's Church was planned in 1772 on land donated by Charles Colmore, the site was described as being on Harpur's Hills. 
William Dargue 21.03.2009/ 02.08.2010