William Dargue  A History of BIRMINGHAM Places & Placenames from A to Y
Highgate
B12 - Grid reference SP075856
First record c1790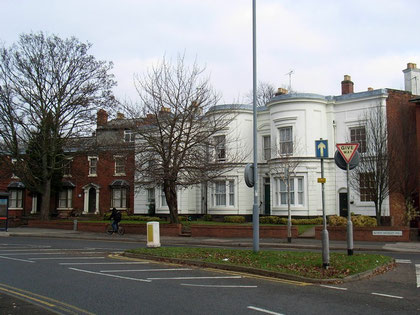 Although there is no early evidence, this name is possibly medieval, heyne gaet meaning 'high road' which the Moseley Road here certainly is. However, it may be a London name introduced in the late 18th century to give prestige to the wealthy upper-class development along the Moseley Road as far as Highgate Road.

Highgate House was a mansion built before 1791 set in a 10-hectare estate west of the Moseley Road. Birmingham button magnate, Henry Haden lived here until 1837.
In the early 19th century large country houses were built along the Moseley Road away from the industrialising town. Some smaller examples survive opposite Highgate Park.
By 1876 Highgate House had been demolished and the estate mined for clay by William Charley, the owner of Harrisons Brickworks on Highgate Street. Highgate and neighbouring Balsall Heath were developing rapidly at this time and large profits were to be made in the house building boom.
During the later years of the 20th century the area became densely built-up with working-class housing, much of it of poor quality. During the 1960s all the housing was demolished and new housing built. A large part of the district was zoned for industry. 
See also Vaughtons Hole.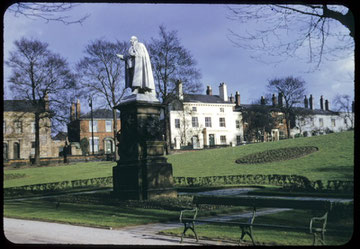 Highgate Park was opened by Joseph Chamberlain in 1876 on land that was formerly a sheep and cattle fold for the Birmingham livestock markets. The land was once the property of Elizabeth Hollier who used the fields as pasture. Her will specified that the four fields be rented out to clothe twelve poor people of Aston Parish and twelve poor of Birmingham Parish each year.
In 1875 the Trustees of Elizabeth Hollier's Charity wanted to develop the land for industry but Birmingham Corporation opposed this and acquired it to provide a park. This was the first park actually created by the town council itself. It was the result of a desire to give some green breathing space to inner-city dwellers whose lives were enclosed by buildings. As a site near the City Centre and industrial Digbeth, the park was hit by some two hundred German bombs during World War 2. The park was restored in 1952 and restoration plans are again currently in hand.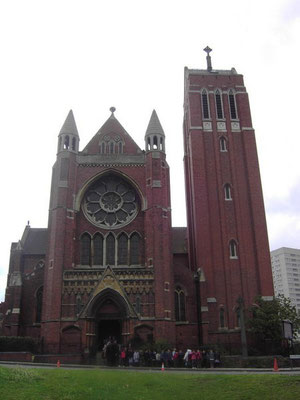 Well worth a visit - St Alban's Church

Highgate's church of St Alban the Martyr started life in Leopold Street in 1865 as a mission of Holy Trinity, Bordesley, and was known as 'The Shed'. James Pollock was appointed curate and was instrumental in getting a second larger brick building in 1871. This served as a school during the week, but was so designed that, should the venture fail, it could be sold as a warehouse. The project was, however, so successful that a new and very large church was planned for nearby Conybere Street.

Designed in 13th-century style in brick by J L Pearson, the church opened in 1881 but was not consecrated until 1899. It is an important example of Pearson's work and designed to allow the full expression of the Anglo-Catholic ritual, as it still does. Pollock's younger brother Tom also arrived and, although they initially faced mob opposition to their high-church practices, they eventually won the love and respect of many in the area for their outreach work. The brothers died in 1895 and 1896 respectively. Although not according to Pearson's original concept, the church tower was completed in 1938 and is a significant landmark on this side of the city. Tall and slender from the outside, this Grade II* Listed building is particularly impressive inside.

Lench's Almshouses next to the church are picturesquely set around a courtyard. A stone plaque records their construction in 1879, when Charles G Beale and Henry Buckley were the bailiffs. The almshouses were brought up to modern standards at the end of the 20th century and still perform their original function.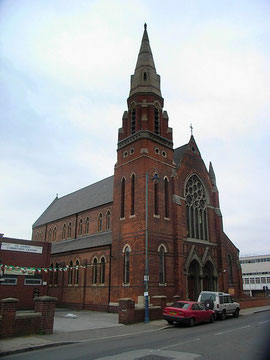 St Anne's Church 
Highgate's Roman Catholic church had inauspicious beginnings. It was set up by Cardinal Newman in an old distillery on Alcester Street. In 1884 it was replaced by St Anne's Church on the corner of Cheapside. Designed in early English gothic style the church was built to serve the large population of Irish immigrants and still has strong Irish connections. J R R Tolkien worshipped here when he lived in Moseley.

From the mid-19th century Highgate began to lose its middle-class status. Because of its proximity to the town, it gradually became industrialised and built up with working-class housing. By the 1880s all available space had been infilled with poor quality back-to-backs, terraces and courts intermingled with industry.

The brass-founding firm of Samuel Heath & Sons was founded in 1820 and moved to its present site in 1867. These classic Victorian industrial buildings are still in use. Over the years the company has produced a wide range of products including bedsteads, blow lamps, coffin handles, gas and electrical fittings, locks, paraffin heaters, pressure stoves and munitions. They now specialise in solid brass bathroom, door and window fittings.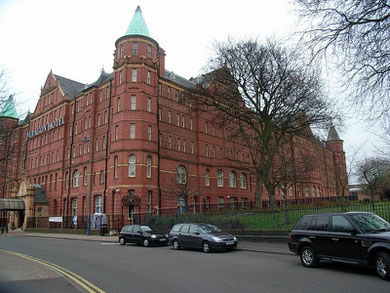 Rowton House
At the corner of Alcester Street and Moseley Street Rowton House was built in 1903 in high Victorian gothic by the philanthropists, Lord Rowton and Sir Edward Guinness. Shocked by the poor quality of lodging houses, they aimed to provide decent accommodation for working people at an affordable price, at that time one shilling a room.
Lord Rowton had built a number of such Rowton Houses in London. The building performed this function for many years, but in its latter days was effectively a hostel for the homeless. It closed in 1989 and lay empty for some time before being imaginatively reopened in 1993 as a hotel.

By World War 2 Highgate had become an area of poor quality housing with deteriorating back-to-backs and slum properties intermingled with industry. It had suffered considerable bomb damage. The entire area was redeveloped with municipal housing from 1954 and into the 1960s, although a small number of pre-1950s industrial properties remain around Leopold Street. Some of the area was again rebuilt during the 1990s by housing associations and with houses for sale to private owners.
See Newtown for more information on inner-city post-war redevelopment.  
Usually described as being in Highgate, the Birmingham Central Mosque is strictly speaking in Balsall Heath. The boundary between the two districts, the former anciently in Warwickshire, the latter in Worcestershire, used to follow the course of a small stream, now culverted, just north of Belgrave Middleway. Birmingham's Muslim community dates from the 1930s. In 1939 there were some 400 Muslims in the city; by 1957 some 4000 who were mostly concentrated in inner-city districts; by 2001 some 150 000, many still in inner-city districts, though much more widely spread across the city.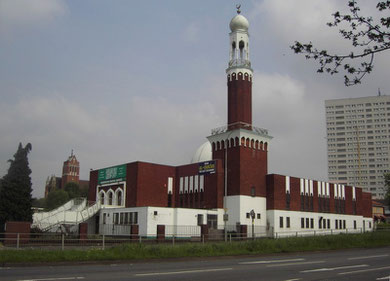 Opened in 1943 in a house in lower Edward Road, Balsall Heath, Birmingham's first mosque was set up to serve the needs of a small Yemeni community. It is still there and Balsall Heath still has a significant number of people of Yemeni origin.

The origins of the Birmingham Central Mosque are also to be found nearby in Speedwell Road on the boundary of Edgbaston and Balsall Heath. Here a house was used by Muslim immigrants from India and Pakistan from 1944. By 1957 the congregation had outgrown the small building: some 200 worshippers attended Friday prayers, but on festival days more than 1000 people attended.

Plans were drawn up in 1957, but it was not until 1968 that building work began. It was to be another seven years before the mosque was opened, only the second purpose-built mosque in the country. The large fibre-glass dome was put in place in 1982, with the 50m-high minaret being the last part of the mosque to be built. The main prayer hall accommodates some 2800 worshippers with an additional 400 in the ladies' gallery. There is a community hall, library, classrooms and a mortuary. On special occasions the mosque can accommodate 5000 people. At Eid the five prayer services are attended by some 20,000 worshippers.
William Dargue 03.08.2010