William Dargue  A History of BIRMINGHAM Places & Placenames from A to Y
Hill
Hill Hook, Hill Village, Hill Wood, Hill Common/ Hill Wood Common
B74 - Grid reference SP114998
Hulle: first record 1525, Hullehok 1340, Hullewode 1481
The village of Hill lies along Hill Village Road north of Mere Green, Sutton Coldfield. Hill is a topographical name deriving simply from the Old English word hyll meaning 'hill'. This road was formerly the (Old) Lichfield Road, but was by-passed after the setting up of the Lichfield turnpike in 1807. It now has none of the appearance of a village and is a 20th-century suburban street. However, surviving from the 18th century is the three-storey Georgian Old Farmhouse also known as Forge Farmhouse, and The Malthouse, both of which are protected by a Grade II Listing.
John Leland, Henry VIII's antiquary passed this way in 1538 and described the lay of the land:
From Southetonne to Lichefeld a 5. miles by ground reasonably well woodyd and pastured, but not very apte to bere good corne, as a ground full of hethe and ferne in many placis.
Hill Hook lies somewhat to the north of Hill, south of Blake Street off the Lichfield Road; a hoc was 'a pointed piece of land'. 

Hill Hook Mill stood on the stream west of Netherstone Grove and is recorded in 1834 on the 1st Edition Ordnance Survey map as Hill Oak Mill. Dating from the 17th century, the mill ground corn until the beginning of World War 1. From the opening of Blake Street railway station in 1884 Hill Hook became a popular destination for day trippers from Birmingham. There was fishing, swimming and boating and refreshments could be bought. A small amusement park had swings and roundabouts. By the outbreak of World War 2 the amusements had ceased and the mill buildings were falling into ruins. The mill was demolished in 1970.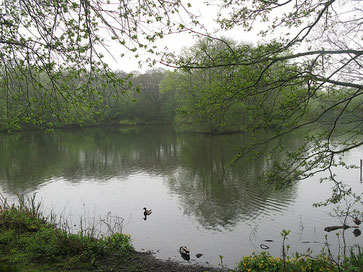 Open land nearby has been preserved as Hill Hook Local Nature Reserve which lies south of Blake Street Station and is now surrounded by housing. There are a variety of habitats here: grassland, scrub and woodland as well as open water and marshland. The Bourne Brook runs through the reserve northwards to the old mill pool.
Right: Hill Hook millpond photographed by Martin McDonald and downloaded from flickr under Creative Commons Licence Attribution-Non-Commercial-Share Alike 2.0 Generic.
Until Henry VIII's time, the manor of Hill belonged to the nearby Canwell Priory in Staffordshire. With the dissolution of the monasteries, the manor went to Cardinal's College Oxford. Founded by the King's chancellor, Cardinal Wolsey, it is now known as Christ Church College.

Hill Wood is the name of a hamlet at the south end of Hill Wood Road. Hill Common or Hill Wood Common lay north of the village around Hillwood Common Road. The regular rectangular fields here are typical of common land that was enclosed in the 19th century.

Human habitation of the area goes back at least eight thousand years ago to the Mesolithic, or Middle Stone Age. A time of rising temperatures and sea levels, Britain was still at that time joined to mainland Europe. The lay of the land was much as at present, though covered with thick forest, large rivers and much swamp. There was a very small population of hunter-gatherers who kept to well-drained open sites on sand and gravel drift where the tree cover was less dense. People used flint-tipped fishing spears and bows with flint-tipped arrows to hunt elk, deer, pigs and aurochs, prehistoric giant cattle. Evidence elsewhere shows that people lived in shelters made of branches and in hollows covered with rushes. People of the Middle Stone Age were semi-nomadic, settling in one place as long as they had shelter, water and most importantly food, but hunting and gathering as necessary.
Manorial Wood mesolithic flints
Near Manorial Wood between Hill Wood Road and Worcester Lane archaeologists found sixteen flints in two adjacent fields by fieldwalking. This is a systematic survey of ploughed fields by surface observation. Such a number of surface finds suggests a greater number lying unseen in the soil and probably in other nearby fields. However, this is not a large find in comparison with sites elsewhere: excavations in the Sandwell Valley, for instance, have unearthed over 800 flints. Nonetheless, the evidence here suggests at the least a temporary camp, and at the most a camp revisited over the years. At that time the site was probably at the edge of woodland overlooking the fertile valley of Little Hay Brook as it runs northwards. On the fringe of the woods lighter conditions encouraged more fruit, nuts and animals.
Manorial Farm Iron Age settlement
Off Hill Wood Road a series of crop marks have been identified on aerial photographs near Manorial Farm. They include three possible ring ditches and a probable field enclosure. Evidence of the Iron Age is quite rare in the Birmingham area, but these marks very likely indicate a settlement here dating back before the Roman conquest of Britain.
Sherifoot Lane Roman kiln
On Sherifoot Lane a 2nd-century Roman pottery kiln was discovered by Mr Young while digging a garden pond. Excavation found a kiln about 1m diameter and evidence of the small chimney. Waste pottery found in a rubbish pit included tankards, jars, bowls, dishes, lids, cheese presses and mortars. The light grey pottery from this kiln has been found at Coleshill, but its likely market was probably the Roman fort and vicus at Wall near Lichfield.
Tudor keeper's lodge
In Henry VIII's time there were four lodges on Sutton Chase including one at Hill Wood. These would have been houses lived in by the keeper of that part of the chase, available for use when royal or noble guests came to hunt for deer. The location of the lodge is unknown.
Naploneonic camp
In response to the threat of a later invasion, during the Napoleonic Wars in 1811 a military camp was set up at Hill Wood to house the Edinburgh Militia, the Sussex Militia, the 7th Dragoon Guards and a brigade of artillery. After the British victory over the French at the Battle of Waterloo in 1815 the militias were disbanded and the camp closed. It is commemorated by Camp Road.
See also Mere Green. 
William Dargue 24.03 2009/ 03.08.2010