William Dargue  A History of BIRMINGHAM Places & Placenames from A to Y
Hyde Park Corner
B7 - Grid reference SP088882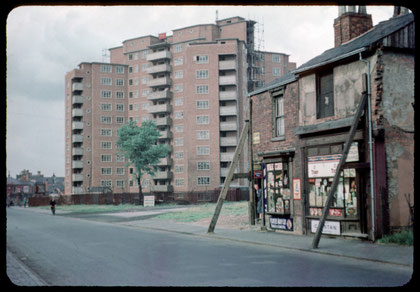 Hyde Park in London was an enclosed royal deer park from Tudor times. James I allowed limited access to gentlefolk and Charles I opened the park to the public in 1637. The park became nationally known for the Great Exhibition of 1851 with the Crystal Palace being built on the south side of the park. Hyde Park Corner is at the south-east corner of the park and is a major road intersection, the junction of Park Lane, Knightsbridge, Piccadilly, Grosvenor Place and Constitution Hill, and known as an important, prestigious and busy place.
This London name was given to the junction of Saltley Road (now Nechells Parkway) and Bloomsbury Road at the site of the tollgate on the turnpike to Castle Bromwich. This was set up in 1760 and removed in 1851, though it was to be another quarter of a century before the road was disturnpiked.
Photograph taken from Hyde Park Corner by Phyllis Nicklin in 1953 of the new flats, Bloomsbury Street. Copyright MLA West Midlands and the University of Birmingham - available to download and redistribute for non-commercial purposes. 
The name was given to the junction by the housing developers who no doubt wanted to add some London prestige to the site. Bloomsbury Library was built here on Lingard Street (now gone) by Duddeston & Nechells Borough Council in 1892 a a fire station and police station were built nearby on Bloomsbury Street, both now demolished. Other London names used locally were Bloomsbury, Holborn Hill and Long Acre. 
And the next junction into Nechells at the junction of Rocky Lane, Nechells Place, and Nechells Park Road was confusingly known High Park Corner, when it wasn't called Six Ways Nechells.  
See Nechells.
William Dargue 28.03.2009/ 02.08.2010