William Dargue  A History of BIRMINGHAM Places & Placenames from A to Y
Nechells
B7 - Grid reference SP093894
Echeles: first record c1180; Nechells 1339
Nechells lies on the sandstone ridge between the River Rea and Aston Brook (also known as Hockley Brook). Its Anglo-Saxon name was probably atten echels which meant 'at the piece of land added on' to an estate or manor. In Old English the preposition 'at' signified that this was a location. As the grammatical complexities of preposition and noun agreements of Old English simplified into Middle English, the name elided from atten echels into attenechels and later into atte nechels.
As Echelles the name appears in a document of 1180, as the property of Osbert de Parles. Situated in the manor of Aston, it was clearly detached from his manor of Handsworth. The name probably predates that connection, but it is possible that Nechells was an estate added to the parent village of Handsworth in earlier Anglo-Saxon times. By the mid-14th century the placename was recorded as Nechells.

William Dugdale writing in his Antiquities of Warwickshire 1656, believed the manor to have been once more populous than it was in his time:
But, it hath been long since totally depopulated, though antiently it was a pretty Village, as by severall instances might be shewed : for in 34 E.3. [the 34th year of the reign of Edward III, ie. 1361] Sir Thomas de Arden Knight, had a mansion here , as appears by a License granted to him from Robert de Stretton then Bishop of this Dioces , to have a private Oratorie or Chapell , therein, for himself and his own Family. It seems that the same Philip de Aylesbury, of whom I have made mention in Dudston, had also some interest herein R.2 [Richard II] time ; for he then wrote a himself 'Dominus de [Latin: lord of ] Dudston & de Nechells.
The manor descended through the family and came by marriage to the de Castello family who sold it to Simon Holte in 1330. Nechells then descended with Duddeston and Aston in the Holte family and in 1586 was held by Edward Holte, who was also the lord of the adjoining Bordesley manor, part of the extensive manor of Aston.

It is unlikely that there was ever a village centre here, but there may have been a manor house. Although no visible trace or documentary evidence survives, a moated Nechells Hall near the junction of Nechells Park Road and Stanley Road is possible. Although this is conjectural, the theory is supported by the fact that Nechells Park is shown on a map in William Dugdale's Antiquities of Warwickshire which was published in 1656. The term park was used to mean the estate of a country house, possibly a deer park. Dugdale also documents a mansion here in 1361 belonging to Sir Thomas Arden which had its own private chapel. Nechells Park Farm, which survived at least until the end of the 18th centry, may have been the downgraded successor of the earlier manor house.
Although originally separate manors, Nechells was always considered with Duddeston from medieval times. During the early 19th century the two manors were adminstered for a short time by a joint Duddeston & Nechells Borough Council. By this time urban Birmingham had expanded well beyond its manorial boundaries. In 1838, when Birmingham was granted the status of a municipal borough Edgbaston, Deritend with Duddeston & Nechells were all absorbed into the new entity.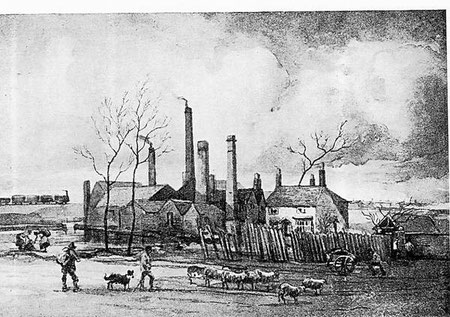 Industry
The boundary of Aston with Nechells is marked by Aston Brook, now a culverted stream less than three metres in width. Never a major watercourse, it was nonetheless used to power a number of mills. Brodemore Mill was in existence by 1532 and was probably used for fulling woollen cloth.

In its response to change, the mill reflects the continual transformation of many Birmingham's watermills. By 1684 it had been converted to a blade mill which was known by 1758 as Thimble Mill. Thimbles were a small but important item used in all households from the earliest times for the making and repairing of clothes. They were made individually by hand in a number of different materials.
The mechanised production of metal thimbles using water power is first known from the end of the 17th century when John Lofting, a Dutch thimble manufacturer set up a thimble mill in Islington, London which produced up to two million thimbles per year. After Lofting's death in 1742 his mill continued making thimbles until it became impossible to compete with Birmingham toy makers. In 1769 Richard Ford patented a process in Birmingham which eliminated the need to cast thimbles in a mould. The thimbles are made by a process known as deep-drawing whereby the initial thimble shape is formed from a sheet-metal disc before being repeatedly forced between dies and then annealed by heat. The process needed less skilled labour, was faster and more precise and used less metal and was quickly copied by other Birmingham manufacturers.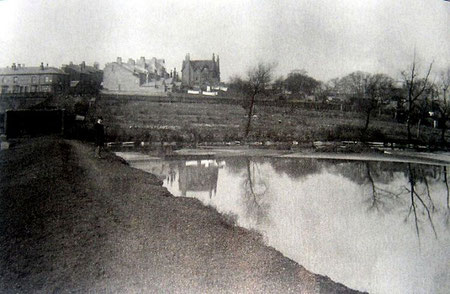 Soon afterwards Thimble Mill became a metal rolling mill known as Nechells Mill. At the end of the 18th century it was rebuilt 100 metres downstream to allow a larger millpool to be dug to provide greater security against the unreliable stream. From the mid-19th century until the end of the First World War, the mill was producing gun barrels. As a consequence of the construction of the branch railway to Windsor Street gasworks in 1884 the mill pool was filled and steam power was used until the mill's closure in 1908.

Steel's Mill stood on the Aston side of Aston Brook and above Thimble Mill itself. It had no pool and was powered directly from the stream. It was a blade mill in the early 18th century and gone by 1833. Park Mill or Benton's Mill had two pools, one on Aston Brook, the other on a leat whose dam was crossed by Pool Lane, now Holborn Hill. It was a blade mill in 1725, and rebuilt before 1774 by Richard Benton of Nechells Park Farm. From 1829 it was a rolling mill, and later a sandpaper factory. The water rights were sold to allow Aston Brook to be culverted in 1892. In 1900 the mill buildings were incorporated into Plume Works, demolished 1941.

Nechells Park Mill had a large pool off the Rea. There was a blade mill here in l693 which was rebuilt for metal-slitting in 1747 with an enlarged pool. The mill was still producing edge-tools until l863. The pool survived until 1905 and is now the site of a recreation ground off Mount Street.
Primrose Hill Farm is shown on Fowler's Plan of Aston Parish in 1833 but may well be earlier. Primrose Hill itself was covered by Windsor Street gas works after 1840 and the farm was not to last much longer.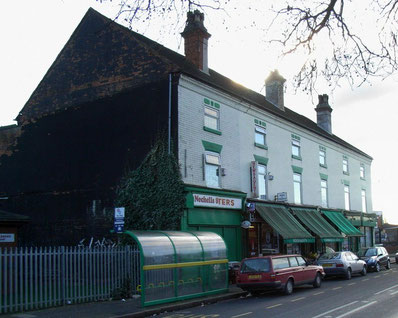 Urbanisation
In 1800 the population of this rural area was numbered in tens; by the end of the century it would be numbered in tens of thousands. Although the building of small terraced house for the working-class was well under way by 1841, most of Duddeston, Nechells and Lower Saltley were still rural in the 1850s.
However, by the 1870s long straight streets of working-class housing largely covered the area. With the development of industry along the River Rea, the population of Duddeston and Nechells more than doubled from c20 000 to c50 000 in just thirty years from the census of 1841 to that of 1871.

By the end of the 19th century Nechells was dominated on two sides by gas works, Windsor Street to the west and Saltley gas works to the west, at its height the largest in Europe. As a result of the acquisition by Birmingham Corporation of the Windsor Street works and their imminent expansion, a branch railway line was made in 1884 from the Aston-Stechford Loop to Windsor Street Wharf to bring coal directly into the works. In 1899 a branch line was laid from the Grand Junction Liverpool line into Saltley gas works.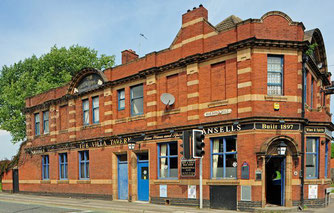 At the corner of Nechells Park Road and Holborn Hill is the Villa Tavern. Built for Ansells Brewery, this public house was designed probably by James & Lister Lea as were many other Ansell's houses. It is a good example of a late Victorian corner pub in red brick with decorative stonework which has retained all of its Victorian character externally and has a wealth of original fittings inside with decorative wall tiles, tiled floors and etched glasswork.
Image of the Villa Tavern from the Birmingham Mail.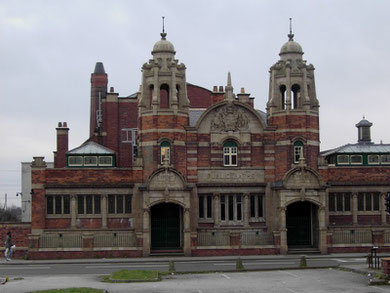 Opposite the pub and reflecting its style are Nechells Baths. Built in 1910 this twin-towered building was disused for some years but is now imaginatively restored by the City Council as a community facility. Dating from the 19th century a small shopping centre on Nechells Park Road south of the swimming baths still provides a focal point for the district.
Take a look at two Victorian schools.

Two Victorian schools remain in Nechells. Cromwell Street Board School was opened by the Birmingham School Board in 1889 with accommodation for over a thousand pupils. The school was damaged by a German bomb during World War 2 and the building was then used as a civic restaurant until 1951 when it became a junior and infant school.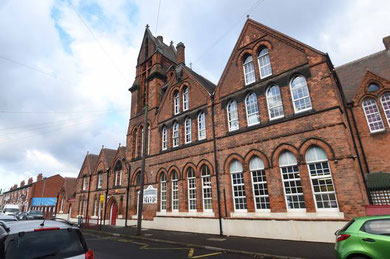 Hutton Street (now Eliot Street) Board School, opened in 1879, was designed to accommodate over a thousand children. Renamed Nechells Board School in 1897, the school was enlarged a number of times and reorganised in 1930 into senior, junior and infant departments. Due to overcrowding in 1954 in this densely populated area, additional accommodation was provided for the primary school in the Presbyterian church on Longacre.
Nechells Primary School continues to use this fine Victorian gothic-style building with its red terracotta and square tower.

Churches
There is no longer an Anglican church in Nechells. St Clement's on the corner of Nechells Park Road and Stuart Street, designed by J A Chatwin, and consecrated in 1859, had been demolished by 1978 as the area was redeveloped. Another Anglican church, St Catherine's stood in Scholefield St, a street now gone which lay between Cromwell Street and Bloomsbury Street. This was a church built in the perpendicular style which was consecrated in 1878. St Catherine's had closed by 1945, the parish becoming part of that of nearby St Matthew's, and the building was demolished c1951.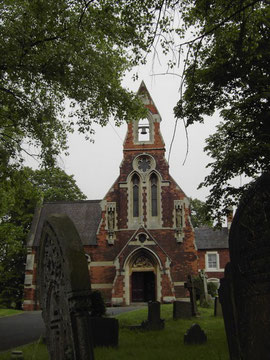 Take a look at St Joseph's RC Church.

Between Thimble Mill Lane and Long Acre is a significant Roman Catholic church. St Joseph's was built in 1850 originally as the mortuary chapel for the newly opened Roman Catholic cemetery, at that time the only one in Birmingham. The chapel was designed in decorated gothic by A W N Pugin as the chancel of a future church.
Over twenty years later the project came to fruition when the building was enlarged to become a parish church by Pugin's son Edward, in a high Victorian gothic style. St Joseph's School opened on Longacre in 1868 with just two classrooms, one up, one down, and was enlarged a number of times as the population grew. The school which had always been taught by the Sisters of the Charity of St Paul became an aided Roman Catholic school in 1953.

After the First World War there was some demolition of the worst slums in this area, but little new building. However in 1937 over one hundred hectares of Duddeston and Nechells, including many war-damaged sites and houses unfit for habitation, were designated a Redevelopment Area. In the event the work had to be postponed until after World War 2.
Immediately after the War the worst of the slums were cleared and open spaces provided. A new dual carriageway, Nechells Parkway was laid out from the City centre to Saltley which cut the area into two self-contained neighbourhoods, each designed with its own centre and amenities and large areas of green open space.

The name, Nechells Green was chosen for the Duddeston side. Housing was now clearly segregated from industry which was zoned west of Windsor Street. With lower-density housing only half of the inhabitants could be rehoused here, and most dwellings were in multi-storey blocks. In the late 1990s many of these have been replaced with standard low-rise housing. The area east of the Birmingham-Liverpool railway, including Vauxhall, was defined as St Clements Redevelopment Area; and with the exception of Vauxhall, it still is known as Nechells. Low-rise redevelopment here continued beyond the mid-1970s and appears markedly different from the tower-blocks of Nechells Green.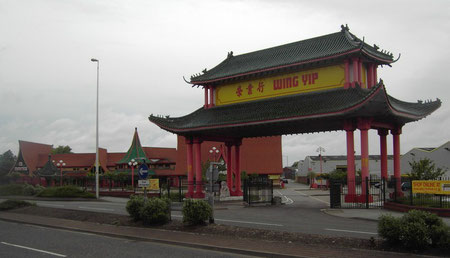 Industry is now zoned to the north-west of Nechells in a wide strip along the Birmingham & Fazeley Canal, most of it light industry in small units.
An unusual addition to the scene is the Chinese Business Centre on Thimble Mill Lane which was opened by Wing Yip in 1992. Built in Chinese style, its primary purpose is a Chinese supermarket, but the centre has also attracted such Chinese tenants such as accountants, solicitors, and a doctor serving Birmingham's Chinese community. Four years later the site grew to 3ha to include a large distribution warehouse for the Wing Yip's wholesale and retail food company, the Bank of East Asia, a lawyer's practice and restaurants. It was then that and the prominent Chinese Arch with handmade tiles from China was erected. (See also The Chinese Quarter.) Close by is the Aston Manor Brewery set up in 1983 after Ansells closed its brewery in Aston - the company is now a major producer of cider..

See also Nechells Green.
Click to enlarge the images in the Nechells Gallery below.
William Dargue 07.04.2009/ 13.12.2020