William Dargue  A History of BIRMINGHAM Places & Placenames from A to Y
Bloomsbury
B7 - Grid reference SP087883
First record c1830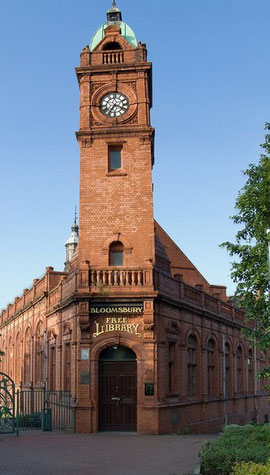 A good London name always added prestige to a housing development. In the 1830s the central London district of Bloomsbury, which was known for its handsome Georgian terraces, lent its name to the main street of a development near Duddeston. The name Bloomsbury was subsequently used for a wider area around the street. By the 1870s the built-up district was contiguous with Duddeston and Nechells, themselves adjoining the Birmingham town.

Take a look at Bloomsbury Library.

Duddeston & Nechells Borough Council created a focal point for the development at the junction of the modern Nechells Parkway with Lingard Street, now gone. Bloomsbury Library, a good red-brick gothic building, was opened in 1892 on a triangular site. It is Grade II Listed and has fine neo-classical terracotta panels by Benjamin Creswick, a teacher at the Birmingham School of Art. Scenes show industrial and agricultural work, sport (football, cricket, lacrosse) and reading, and home life from childhood to old age. The largest panel is almost three metres wide and depicts the female figure of Birmingham receiving the gifts of the City's Arts, Crafts and Industries. The library was restored in 1993 retaining the original Victorian features such as gas fittings wherever possible. On Bloomsbury Street alongside the library were also the police and fire stations, now demolished.

By the beginning of the 20th century the quality of housing in the district had deteriorated badly; back-to-backs and squalid terraces were interspersed with polluting industry. Plans were made before World War 2 to rezone the industry and replace the housing, but it was not until the 1960s that the work got underway in earnest. In the total redevelopment the area north and south of Nechells Parkway was renamed Nechells Green and the name of Bloomsbury fell out of use. However, it has been resurrected by the City for new housing redevelopments here c2000.
See also Hyde Park Corner.
Photographs below of Bloomsbury Street after the Second World War, 'All Rights Reserved' reused here by kind permission of Carl Chinn from his BirminghamLives website. 
Left: Bloomsbury Street Nos. 310-330 in 1964; Centre left Nos.236-256 in 1966; Centre right view from Fowler Street including Bloomsbury Institute 1964; Right Bloomsbury Street police station in 1966.
William Dargue 14.09.2008