William Dargue  A History of BIRMINGHAM Places & Placenames from A to Y
Bordesley, Bordesley Village
B9 - Grid reference SP085865
Bordesleia, Bordesleie: first record 1175

First documented in the 12th century, this placename is certainly some five hundred years older. In Old English Bord's leah means 'Bord's clearing'. Bord may mean 'boards' or 'planks' but it is also a male personal name. (See also Balsall Heath.) The clearing may well have been around Bordesley Park Road where the later manor house is known to have stood. Here the Anglian, Bord found or made a clearing in the forest to grow his crops and tend his stock possibly as early as the 7th century. By the 13th century the manor of Bordesley was part of the large manor of Aston.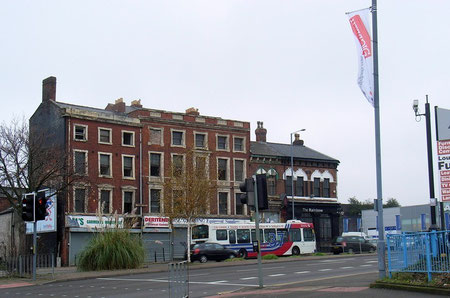 During the Middle Ages a hamlet of Bordesley developed at Bordesley High Street. This was beyond Digbeth and on the other side of the River Rea to Birmingham. It was also beyond Deritend, which was technically part of Aston parish, but which belonged to the manor of Birmingham.
Non-Birmingham traders had to pay tolls to get into the Bull Ring market. To capitalise on passing trade, a retail centre developed along Bordesley High Street just beyond the boundary of Birmingham manor.
It appears to have been laid out in burgage plots, presumably by the medieval lord of Bordesley manor, in a similar way to the new-town development in Birmingham itself.

The road through Digbeth and Bordesley from Birmingham was an important one leading as it did to Coventry, Warwick, Stratford and eventually to London. However, it presented difficulties to the traveller even in good weather. Charles Pye wrote in 1818 in his Description of Modern Birmingham of the holloway leading up to Camp Hill:

The horse roads round this town were, within memory, from the rains, constant wear, and no repair, worn into such hollow ways, that in some instances, particularly in Bordesley, a waggon, when loaded with hay, the top of it was not so high as the foot path on the side: it was at one time fifty-eight feet below the surface.

The open fields of the manor were set on lighter soils of glacial drift south-east of Jenkins Street and north of the Coventry Road in the St Andrews area. Callowfields lay between Garrison Lane and Coventry Road as far as Green Lane; it was on this site in 1908 that Garrison Lane Recreation Ground was laid out. The land here was probably freely draining glacial drift, as the Old English word calu, 'callow' means bare. It is unlikely to have been good agricultural land. A three-course field system is known to have been in place from 1338. A traditional crop rotation was peas or beans one year, the next year wheat, barley, rye or oats, and for the third year the field was fallow ie. left to rest with grazing animals manuring the land.

By 1226 Bordesley was held in demesne by the overlords of the manors of Aston parish. This is presumably the land specified at Domesday as demesne land for six ploughteams. In 1291 there were 61 acres of demesne, and meadows in Bordesley and Duddeston and Overton ie. Water Orton some six miles away. The overlordship passed through the de Somery family by marriage to the Botetourts in the 14th century.

In 1563 the manor was bought by Edward Arden. His great-grandson Robert died in 1643 without issue and the manor was divided equally between his four sisters: Elizabeth, the wife of Sir William Poley of Suffolk; Godith, wife of Herbert Price; Dorothy, wife of Hervey Bagot of Pype Hall; and Anne, the wife of Sir Charles Adderley of Lea (Marston). In 1679 Arden, son of Sir Charles and Anne Adderley, sold his quarter to Arden Bagot, son of Hervey and Dorothy, and this half of the manor then descended with Berwood. Godith's quarter was sold c1719 by their son John Price with Park Hall in Castle Bromwich to John Bridgeman of Castle Bromwich Hall. Elizabeth Poley's quarter was sold in 1658 to Oliver Raymond and John Berners and subsequently to Sir Charles Holte by 1706. Bordesley then descended through the Holte family with the manor of Aston.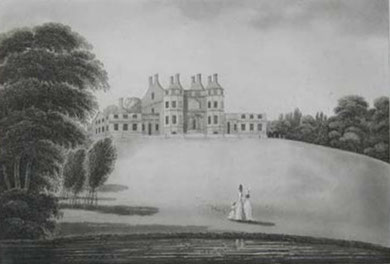 Bordesley's manor house stood off Bordesley Park Road. Bordesley Hall, which had replaced an earlier medieval moated manor house nearby, was rebuilt in grand style in 1757 by the Birmingham button magnate John Taylor I who spent some £10 000 improving the building. He emparked 15 hectares of land and laid out an ornamental pool on the brook with an island, bridge, and grotto. Exotic shrubs and swans were imported.
However, the hall was burned down during the 1791 Birmingham Riots. It was rebuilt but demolished in 1840 when the estate was sold off for lucrative housing development. 
The manor of Bordesley amalgamated with Birmingham in 1838 at a time when this formerly rural area was just beginning to be built up, a process that was completed well before the end of the 19th century.
Below: Victorian housing photographed in the late 1950s and early 60s. Most 19th-century houses were demolished by the early 1970s, although some remain near Garrison Lane Park. Click to enlarge.
Images courtesy of Carl Chinn from his BirminghamLives website - 'All Rights Reserved'.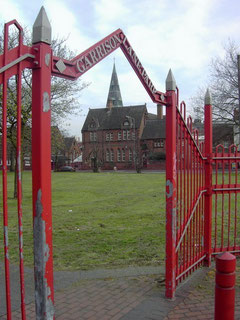 Three 19th-century board school buildings still stand in Bordesley, although only one remains in use as a school. The oldest is Garrison Lane Board School which was opened by the Birmingham School Board in 1873 with accommodation for 846 children, however, only five years later room for 200 more children had be built.
The buildings were altered and reorganised in 1921 for juniors and infants; from 1951 the school was used for infants only. After it closed in in about 1959 it was used as the Birmingham Teachers' Centre for in-service training until c1974. This school and Steward Street School, off Spring Hill near Hockley, are the only two of the first five Birmingham Board schools whose buildings survive. It is a Grade II Listed building.

Not far up the hill, Ada Street Board School was opened in 1885 for over a thousand children. The building now appears much as it was after the 1928 remodelling when the school was reorganised for senior boys, juniors and infants.
Ada Road senior boys' department became a separate school in 1945 and was renamed in 1954 after the nearby church (now demolished) as St Andrews County Modern School. It closed c1975 when the new Small Heath Comprehensive School opened in Muntz Street. The primary school of St Andrews was refurbished in the 1990s and is Locally Listed building whose Victorian spire remains a local landmark.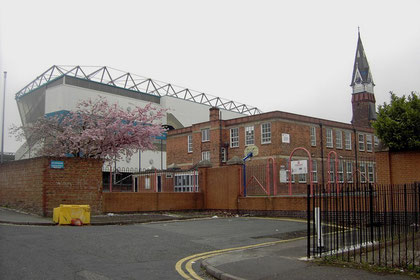 Also close by in this crowded district is Tilton Road Board School which opened in 1891 also with accommodation for over a thousand pupils; it was further enlarged in 1906. As at Ada Road the school was reorganised in 1929 for juniors and infants, but this time with senior girls.
The senior department became Tilton Road County Modern School in 1945 which had 400 pupils on roll in 1961; older girls used a playground on the roof. Both the primary and secondary schools closed c1975 as the numbers of school-aged pupils in the area dropped with wide-spread demolition of older properties but prior to new building. The Grade II Listed school buildings still stand and have now been converted now a mosque. 
Bordesley Village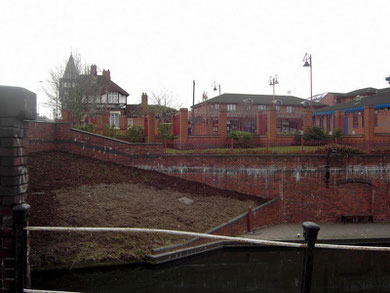 Bordesley Village is a late-1990s name coined for the area around St Andrews Road. This is a complete redevelopment of a Victorian district which originally consisted of small, though good working-class terraced houses. However, courtyards were subsequently built to the rear and small industry became increasingly intermingled.
During the second half of the 20th century the housing stock deteriorated badly, many houses being classified as slum dwellings.
Housing was cleared wholesale during the 1980s and new estate built north of the Birmingham & Warwick Junction (Grand Union) Canal as an urban village with a mixture of social and private housing built around a small local shopping centre. The canal, which was previously hidden behind houses and factories has been opened up to the new housing estate as an attractive feature.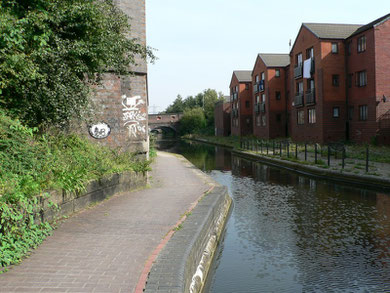 The abutment on the left formerly supported Bolton Street bridge. The houses are in Quigley Avenue. Photograph reproduced with the kind permission of John Fox. All Rights Reserved. See Acknowledgements for a link to Foxy's Island Walks website.
Bordesley Gallery
William Dargue 17.09.2008/ 10.11.2020