William Dargue  A History of BIRMINGHAM Places & Placenames from A to Y
Brookfields
B18 - Grid reference SP055878
First record c1800

Birmingham Heath was poor agricultural land and considered as undeveloped 'waste' until it was enclosed into separate fields in 1798. Improved agricultural methods enabled a living to be made from land previously thought to be uneconomic.

It was in this rural spot around 1800 that Sir Thomas Gooch had a mansion built for himself within a park which was also conveniently close to the town. He named it Brookfields House after Ladywood Brook which it overlooked. Gooch also had a large part of the heath laid out as his warren.

However, the town rapidly began to encroach on Gooch's rural idyll and within a quarter of century his house and estate were profitably sold off to make way for a housing development also to be known as Brookfields. The line of Pitsford Street is that of the drive up to Gooch's former mansion. The estate was gradually built up from the 1830s to completion in the 1870s.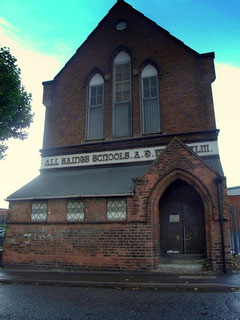 As urban development continued, the west end of the district became known as All Saints after the building of that church in 1833. The church stood at the junction of All Saints Street and Lodge Road. It was built on land given by Gooch himself, and was an early example of the Victorian gothic revival and designed by the Birmingham-based gothic pioneer, Thomas Rickman.
As part of the large-scale demolition of the deteriorated inner-city districts, the church was demolished in 1966 at a time of low regard for Victorian architecture. All Saints Sunday School stood until recently. The school was in existence by 1837 but had no permanent accommodation. It developed into All Saints National School, a day school which opened in 1843 in the new building adjoining the churchyard.

As slum clearance proceeded apace in the late 1960s and the existing population was moved to new houses elsewhere, the names of Brookfields and All Saints fell out of use. However, housing development c2000 west of Icknield Street has since seen a revival by the City Council of the name of Brookfields.
See also All Saints and Birmingham Heath.
William Dargue 04.09.2008/ 31.07.2010