William Dargue  A History of BIRMINGHAM Places & Placenames from A to Y
Brookvale, Brookvale Village
B23 - Grid reference SP089911
Brookvale: first record 1904; Brookvale Village c1980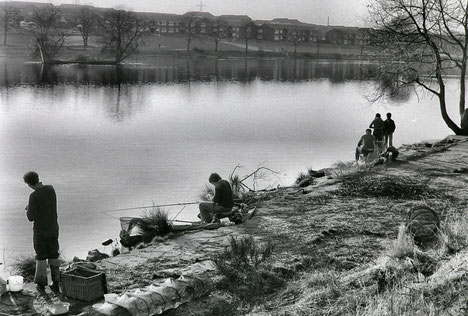 Dozens of public parks and recreation grounds were laid out in the Birmingham area from the 1850s onwards. Initially paid for by wealthy philanthropists, local councils only later took responsibility for their maintenance and continued creation. This far-sighted initiative was designed to give free recreation space for a population, many of whom lived in cramped and unpleasant conditions in the inner city. Lower Witton Lake and its immediate surroundings were bought by Erdington Council to create a public park in 1904; the name of Brookvale Park may have been given with reference to the lower end of Gipsy Lane near Marsh Hill at the south-western end of the (Upper) Witton Lakes which was known as Brook Vale. Brook Farm stood just to the north.
Witton Forge had stood here from the 17th century, and the lake in Brookvale Park, fed by Hawthorn Brook, was known as Lower Witton Pool as opposed to the Upper Witton Pools, which are now called Witton Lakes. This Lower Pool was used as one of the reservoirs for Birmingham's drinking water until the supply was brought to the city from the Elan Valley in 1904.

In 1961 an observant schoolboy, M T Wilkinson, found in the park a Bronze Age arrowhead made of stone. Most Bronze Age tools found in Birmingham are made of stone and not bronze. And this may generally have been the case, bronze being a high status material. The art of making stone tools continued throughout the Bronze Age, the metal being an expensive commodity. However, the lack of bronze artefacts here is certainly an indication of the backwardness of this area in comparison to areas further south.

A windmill, Slade Mill stood between Slade Road and Brookvale Park, most likely grinding corn. It had gone by the early 18th century but is evidenced on later maps by Windmill Hill. Birmingham windmills were often built to grind corn when the nearby watermill was turned over to metal work or other industrial activities.

Brookvale Village is a large private development of the 1980s between Brookvale Park and the M6 motorway.
Click to enlarge the images below.
William Dargue 09.10.2008/ 22.10.2012