William Dargue  A History of BIRMINGHAM Places & Placenames from A to Y
Boot Hill
B75 - Grid reference SP132965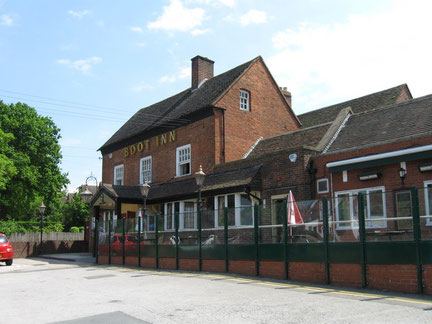 Boot Hill is located on Rectory Road in Sutton Coldfield west of Hollyfield Road/ Whitehouse Common Road. The 1889 Ordnance Survey map shows a small hamlet here opposite the Boot Inn.
This name, which is common across the country, has not been satisfactorily explained. It was a 19th-century term used to describe graveyards in the American West, the implication being that those buried had died with their boots on, by violence, and not by natural causes. Although the 3-hectare Sutton Coldfield Cemetery was opened on Rectory Road nearer Sutton town centre in 1881, that usage is unlikely in this country.
Here the hamlet most likely takes its name from the public house, The Boot Inn. However, it is not clear why there are many pubs of that name. Pubs and inns were recognised from Roman times by various items hung outside them. A bush was a common one. It was the custom in Ancient Rome to hang bunches of vine leaves outside wine bars as a trading sign. Vines were not commonly found in Britain and branches of a bush, often an evergreen such a holly, were displayed instead.
It may be that a boot hanging outside a pub indicated to travellers that this was an inn where they could stay the night.
Alternatively, it was common for landlords to have an occupation in addition to running a pub or inn. It may be that the publican here was also a cobbler.
Boot Hill as a placename is found on the 1889 Ordnance Survey map. The name of the inn is found in the 1871 Census.
William Dargue 13.12.2008