William Dargue  A History of BIRMINGHAM Places & Placenames from A to Y
Bennetts Hill, City Centre
B2 - Grid reference SP068868
First record 1553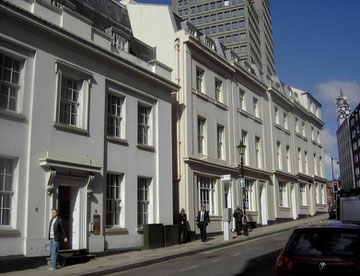 The hill slopes up from New Street to Colmore Row and is named after the family who farmed the land. Bennetts Hill was the name of a close here, which in 1698 was let with a stipulation that it should remain agricultural for a term of 120 years.
The development of the town to the north-west was hindered by a number of agricultural closes in this area including Bennetts Hill Close which belonged to Robert Phillips. It was not until c1820 that the street of the same name was laid out as part of the Inge estate, a mixture of elegant town houses, banks and commercial premises.
The Birmingham journalist, Eliezer Edwards remembered the street as it was in 1837: 
Bennetts Hill was considered the premier street of the town architecturally . . . At the right-hand corner, at the top, where Harrison's music shop now stands, there was, in a large open courtyard, a square old brick mansion, having a brick portico. A walled garden belonging to this house, ran down Bennetts Hill, nearly to Waterloo Street, and an old brick summer-house . . . [now] occupied as offices.
Eliezer Edwards 1877 Personal Recollections of Birmingham and Birmingham Men
Nos.1-5 are early Victorian houses in a plain neo-classical style, possibly designed by Charles Edge, and are Grade II Listed, No.6 has a Grade II* Listing. These are now rare residential survivals in the City Centre and were probably designed with shops on the ground floor. While the facades have been retained, most were rebuilt internally during the late 20th century. Nos.11-12 stand on the site of the home of artist Edward Burne-Jones 1833-1898: a Birmingham Civic Society plaque marks the spot. Bennetts Hill is part of Colmore Row Conservation Area.
Click to enlarge the pictures in the Bennetts Hill Gallery below.  
William Dargue 08.09.2008/ 30.07.2010