William Dargue  A History of BIRMINGHAM Places & Placenames from A to Y
Butlers Bridge
B24 - Grid reference SP127909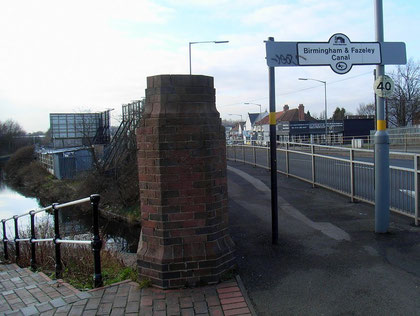 Butlers Bridge was the name of a hamlet by Butlers Bridge which carries the Kingsbury Road over the Birmingham & Fazeley Canal. The Kingsbury Road was a main route from Birmingham to Hemlingford, a crossing of the River Tame near Kingsbury which was for a thousand years the site of the hundred moot, a combination of a modern district council and local magistrates system which continued into the 19th century. Much of modern Birmingham lay within the Hemlingford Hundred and so the Kingsbury Road would have been a well-trodden path for hundreds of years.
The Kingsbury Road was turnpiked in 1826.

Opened in 1789 the Birmingham & Fazeley Canal gave access from Birmingham to London via the Coventry and the Oxford Canals. The bridge was presumably named after a local landowner. The 1841 Census records only two households here, one headed by an agricultural labourer, the other the farm of Isaac Kiley, perhaps a successor of the Butlers? Old Ordnance Survey maps show a little cluster of buildings where Burcote Road is now. The fields of Butlers Bridge Farm were used for the building of the Pype Hayes housing estate after the First World War. 

The name Butlers Bridge is still to be seen on modern Ordnance Survey maps, but has no current use.
William Dargue 27.01.2009/ 20.07.2015