William Dargue  A History of BIRMINGHAM Places & Placenames from A to Y
Billesley, Billesley Common
B13/ B28 - Grid reference SP088806
Bronze Age burnt mound
Billesley is a typical Anglo-Saxon placename, but there is evidence of a much earlier settlement here. In 1952 near Swelbrook, a small stream running west to east across the south of the common, a low mound some 13 metres in diameter was excavated and found to contain large quantities of burnt water-cracked stones. Features such as this are known as burnt mounds and this one has been dated to c1200 BC during the time of the Bronze Age. However, it is not absolutely certain what the burnt stones had been used for. Initial theories held that this would have been a cooking site. Stones heated in a fire were thought to have been used to boil water to cook food or buried with leaf-wrapped meat placed on them. Such techniques have been tried and tested and found to work. However, scarcely a single animal bone has been found on the site of any excavated burnt mound.
More recent theories propose that water may have been poured onto the hot stones inside a tent for a steam bath. This may have been an early type of sauna. Perhaps there was a religious function to the act.
Nearly forty such mounds have been found by rivers and streams in the wider Birmingham area, their large size showing a long period of continuous use. However, although people must have lived close by, no certain evidence of a Bronze Age settlement has been found anywhere in Birmingham.
Anglo-Saxon placename
The name Billesley is Anglo-Saxon, Bill's leah meaning simply 'Bill's clearing'. However, Bill may be a personal name or it may derive from bile meaning beak (-shaped hill), or bill meaning sword (-shaped hill). Examination of a contour map suggests such a feature when viewed from the ancient ridgeway where it crosses the River Cole westwards at Trittiford.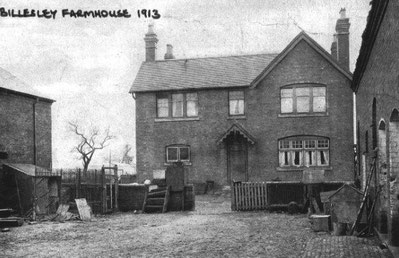 The original Anglo-Saxon settlement could well have been on the higher ground south of Wold Walk where the moated Billesley Farm stood until it was demolished c1923. Although on the clay lands of the Forest of Arden in the east of Birmingham, the early settlers chose to farm an area here on glacial drift where the soils were sandier and lighter to plough.
Billesley was the site of one of the earliest council estates to be built after the First World War, part of the drive to rid the city of its slums. In 1919 the City Council bought Billesley Farm and its surrounding fields and by 1931 some 3500 council houses had been built.

First mentioned as common land in 1774 and shown on the Yardley tithe map of 1843, most of Billesley Common had been enclosed as separate fields by the 1880s. However, despite the extensive housing developments, a significant area of land west of the old farm site was returned to public access and remains open land to this day. Some of it remains a grassy common, although the northern part of it has been turned over to sports facilities including Billesley Indoor a tennis centre, outdoor tennis courts, a school sports hall, Moseley Rugby Club and all weather pitches.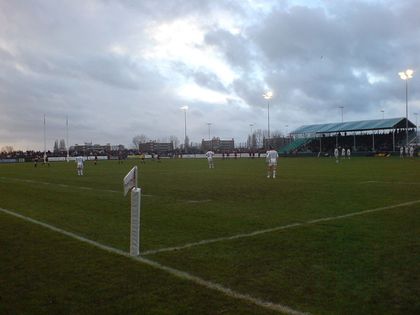 Moseley Rugby Club at Billesley Common. The occasion was National Division One, Moseley vs Northampton, 29 Dec 2007. Northampton won 27-18.
Photograph taken by Dunk the Lunk. Image downloaded from Wikipedia. The copyright owner has placed this work in the public domain. 
William Dargue 09.09.2008/ 22.10.2012