William Dargue  A History of BIRMINGHAM Places & Placenames from A to Y
Beech Lanes
B17 - Grid reference SP016854
First record c1700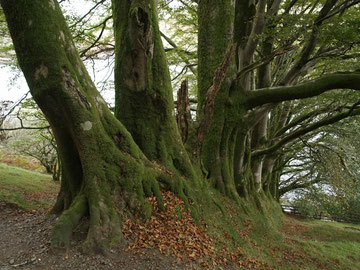 Beech trees are local landmarks, growing to a great age, up to 40 metres in height and with a wide canopy. Their trunks develop a massive girth and have distinctive smooth grey bark. The section of the Hagley Road between Bearwood Road and the Wolverhampton Road was formerly known as Beech Lanes. This was the name of a settlement as well as the road.
It was described as a village in the 18th century, and by the early years of the 19th century there were two pubs here, a blacksmith, a wheelwright, a post office and shops and a Baptist chapel. These took not only local custom from the surrounding countryside, but also benefited their position close to the Harborne-Smethwick road and especially from the passing trade of the Birmingham-Halesowen/ Stourbridge turnpike which had been set up in 1753.
The original route from Birmingham had followed the old Bromsgrove Turnpike via Holloway Head and Wheeleys Lane to Edgbaston church. Here the Bromsgrove road turned south past Edgbaston Hall, while the Halesowen Road continued by way of Edgbaston Park Road and Somerset Road via Harborne High Street, War Lane, Tennal Road and Ridgacre Road to join the Hagley Road at the Quinton.

William Hutton in 1781 described the road as being 'like the life of man, chequered with good and evil; chiefly the latter.' The road was later rerouted more directly along the present Hagley Road. A tollgate and keeper's cottage stood at Sandon Road which known as the Two-Mile Stump after the milestone there. The road was disturnpiked in 1841. The junction of the Hagley Road with the Wolverhampton Road is now known as Beech Lanes.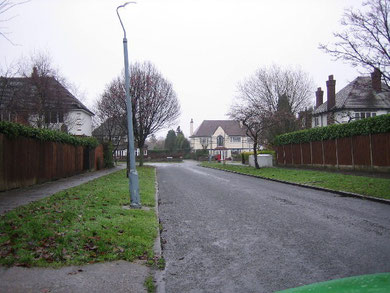 Beech Lanes - The name of this estate reflects the leafy nature of the area. It leads to Fitzroy Avenue.
© Copyright Angella Streluk and licensed for reuse under Attribution-Share Alike 2.0 Generic Creative Commons Licence. Geograph OS reference SP0185. 
William Dargue 08.09.2008/30.07.2010