William Dargue  A History of BIRMINGHAM Places & Placenames from A to Y
Bumble End
B76 - Grid reference SP166950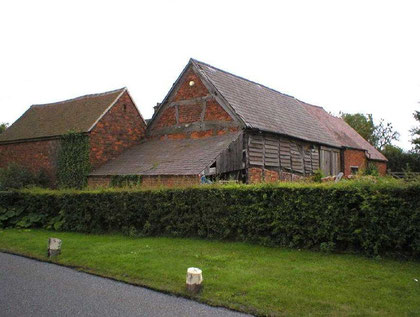 Bumble End appears to have been an alternative name for Grove End. The Ordnance Survey map of 1834 records the hamlet around the junction of Ox Leys Road and Grove Lane as Bumble End; the OS map which was surveyed in 1881 shows it as Grove End by which name it is known now. The name is retained in Bumble End Barn on Grove Lane, which is now houses a carpentry and joinery business.
The 1891 Census also records the hamlet as Bumble End and the home of half a dozen families with agricultural occupations. Many small hamlets could boast a shoemaker - Thomas Baylis was the shoemaker of Bumble End in 1861.
The origin of the name is unknown. Certainly it does not seem to be a surname - the fictional Mr Bumble in Charles Dickens' Oliver Twist is the only bearer of that name. And it is found elsewhere as a placename: there is Bumbles Green in Essex, Bumble Hole at Netherton near Dudley and a number of Bumbles Farms.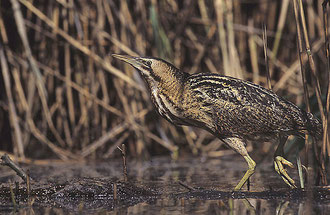 Bumble may derive from a Middle English word with various pronunciations and spellings: bomblen, bumblen, bomben, bommen, bumben, bummen. It is an onomatopaeic word imitative of the humming of a bumblebee. It is also the word that Geoffrey Chaucer used of the bittern in the Prologue to the Wife of Bath's Tale: A bitore bombleth in the myre: 'A bittern booms in the mire.' 
The (great or Eurasian) bittern is a bird of marshland and, at some 100cm in height, about the size of a heron. In the Middle Ages it was a favourite prey of falconers and featured in medieval banquets. The bird is well camouflaged and usually stays hidden in reedbeds until dusk when its booming cry can be heard. Its name appears to include the Latin element taurus meaning bull' presumably referring to its call. This may explain the placename, as the bird would thus have been seldom seen but frequently heard. Was this area a medieval haunt of bitterns?
The population of bitterns gradually declined in Britain because of the draining of wetlands until 1886 when it became extinct. The bird recolonised East Anglia in the early years of the 20th century and there may now be up to 100 breeding pairs.
William Dargue 16.12.2008