William Dargue  A History of BIRMINGHAM Places & Placenames from A to Y
Hurst Green
B76 - Grid reference SP156927
Atte Hurste: first record 1327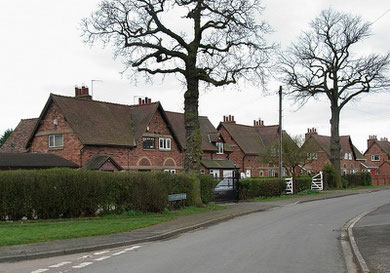 In Anglo Saxon hyrst means a 'wood on a hill', thus Hurst Green is the 'green on (or by) the wooded hill'. Medieval greens were common grazing land to which all tenants had access. The location of the 'hurst' is more problematical. The land in the immediate vicinity is very gently undulating, not to say flat.

Evidence of Stone Age occupation has been found west of Wishaw Lane. Neolithic flint cores were unearthed in a ploughed field dating from a time of settled agricultural communities over 4000 years ago. Cores are only the waste left from tool making, probably arrows heads, but they do suggest that people were living here.
There was still a settlement in the area during the Bronze Age, though its exact location is unknown. A burnt mound has been investigated on Hurst Brook south of Wishaw Lane. One of over two dozen in the Birmingham area, their precise purpose can only be guessed. The mound is formed from a collection of heat-shattered stones which must have taken many years to accumulate, suggesting a long period of settlement. It is thought that they may represent some form of sauna, and possibly served a religious function, but solid evidence is not forthcoming.
Hurst Green is a now small rural housing estate rather than a village which lies north of the Kingsbury Road at Minworth. It consists of housing built in two phases before and after the Second World War.

There is fieldname evidence of a medieval moated site at Hurst Green Farm on Hurst Green Road. Simon atte Hurste is recorded here in 1327, a date compatible with a building on that site.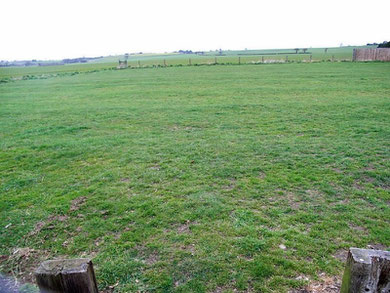 Ridge and furrow
In a small public open space at the corner of Hurst Green Road and Cottage Lane there are indications of ridge and furrow, a feature of the medieval open field system of farming. The open field system developed before the Norman Conquest probably during the 10th century. Village land was pooled, probably at the instigation of the Anglo-Saxon manorial lord, and redistributed so that everyone had a number of strips in each large field. This ensured that everyone had a share of good and bad land. Such systems traditionally had three great fields divided into furlong strips. These were 220 yards long (c200m) and 2 yards (c2m) wide, although the width of strips varied in different places at different times. By c1300 units had largely been standardised. An acre, originally used to denote the size of a field that could be ploughed by a team of oxen in a day was defined as an area 1 furlong in length by one tenth of a furlong (22 yards) wide. A standard open field was 10 acres in area.

The plough was turned on the outside of individual strips to raise the level for drainage and to delineate it from neighbouring strips. families rented from the lord of the manor a strip or more in each field, rent being paid in labour or in kind, and later in cash. A traditional crop rotation was peas or beans one year, the next year wheat, barley, rye or oats, the third year the field was fallow ie. left to rest with grazing animals manuring the land. Each family also shared the common meadow, the waste and the woodland and probably had a small croft (vegetable garden) by their cottage to grow crops for themselves.

The evidence on the ground of open fields is ridge and furrow, a surface feature only which leaves no trace after development and cannot be distinguished archaeologically. However, some examples of ridge and furrow are to be found in Birmingham parks where the land has been little disturbed. It is not always easy to estimate the age of ridge and furrow: broader ridges may be medieval, narrower ridges may be later. Furthermore, ridge and furrow at right-angles to rivers may not be evidence of medieval open fields but dug for drainage.
The ridges and furrows are not easily seen in the photograph but run left-to-right across the field. See the Google map below for a better view. As this is an earth feature which is very easily destroyed, this is a surprising survival here as all the surrounding area has either been built over, or has been ploughed.
William Dargue 28.03.2009/ 03.08.2010